Work integrated learning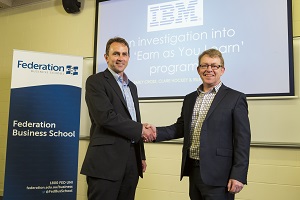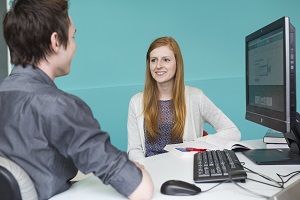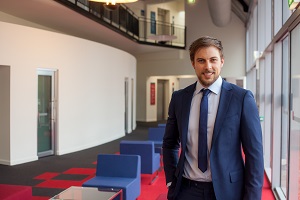 Work Integrated Learning (WIL) is a core component of the Bachelor of Business, and Bachelor of Commerce degrees at Federation Business School. We are committed to providing opportunities for our students to work with industry to ensure you have work experience when you graduate.
International students are eligible and encouraged to participate in Work Integrated Learning however need to be aware that external placements/internships may affect the amount of paid work you are allowed to do under your visa regulations. Additional information can be obtained from the International office and the School. Your program manager can provide further information on your options. There are regular information sessions held each semester regarding the process for applying for WIL. It is your responsibility that you apply for one of these options if your program requires you to complete work integrated learning as a mandatory part of your program.
If you have questions about which WIL option is the best fit for you, or about planning where WIL can fit in your study plan, please contact us on business.wil@federation.edu.au.
For an overview of your WIL options and your eligibility, please see the WIL flowchart (pdf, 108kb).
The options available include:
Projects
Enactus Business Consulting Project
(BUENT3704) 15 credit points
ENACTUS (ENtrepreneurial, ACTion, US) is a global student organisation which brings together business leaders and students whose purpose is to enable progress through entrepreneurial action.
Community and Industry Projects
(BUGEN3700) 15 credit points
Opportunities exist to work with community organisations and industry on projects across a broad range of business disciplines and interests.
For information on current opportunities, please view InPlace.
FBS Compulsory project requirements (pdf, 228kb)
Practice
Case Studies
(BUENT3705) 15 credit points
A real-life case study will be presented to you in class by an external organisation for you to work on in groups then present back to the organisation.
Applied Workplace Practice
(BSMAN3193) 15 credit points
Project conducted in your workplace or associated organisation that requires you to apply the project management skills to complete. Presentation of outcome is required at completion.
Placements
International Exchange
(BUEXC2501-2504),
(BUEXC3501-3503)
The University's study abroad and exchange programs provide global experience and opportunities for students already enrolled in university to study at a range of overseas institutions in countries such as USA, South Korea, Austria, Denmark, UK, Finland, France, Germany, Lithuania, Netherlands and Sweden.
Opportunities are also available for students to negotiate their own arrangements for exchange (subject to our approval).

OS HELP Loans may assist eligible students who are based in Australia, to undertake some of their studies overseas. For information about OS-HELP loans please email studyabroad@federation.edu.au or refer to the Study Assist website.

New Colombo Plan Study Tour
(BUEXC3504) 15 credit points
The New Colombo Plan is a government funded initiative to provide students with exposure to the Indo Pacific region by providing internships, short and longer-term study. Opportunities include short study tours to countries.
Please see InPlace in order to view current opportunities.
Business Internships
(BUGEN3705) 30 credit points
Opportunities are available to work on a project within an organisation for up to 2 days a week for a 12 week period (or 13 weeks should an induction be required). Internships offer the ability to gain work experience and include a requirement to present outcomes of the project to the organisation and the university. For information on current opportunities please view InPlace.
FBS Compulsory internship requirements (pdf, 228kb)
Industry Placement Program (IPP)
(BUGEN3750) 30 credit points
This program consists of a 6-month full-time placement within industry. The program also provides a two year professional development program prior to placement and provides an industry scholarship during placement.

For further information please refer to Industry placement program website.

For students wishing to undertake IPP, it is highly recommended that students complete the Career Accelerate Program (CAP). CAP provides students with the opportunity to develop the skills and knowledge to successfully make the transition into industry placements and professional employment. This is a non-credit bearing program available to all Federation University students, but is a prerequisite for full participation in the IPP. For more information on the CAP program, visit the CAP webpage.

FBS Compulsory placement requirements (pdf, 224kb)
Students are granted access to InPlace once they enrol in any course in any Federation Business School Program.
Log in with your student ID number and FedUni password (the password you're already using to log into My Student Centre).
More information on the InPlace Student Placement System
Useful documents