You just have to take the chance
17 November 2022
---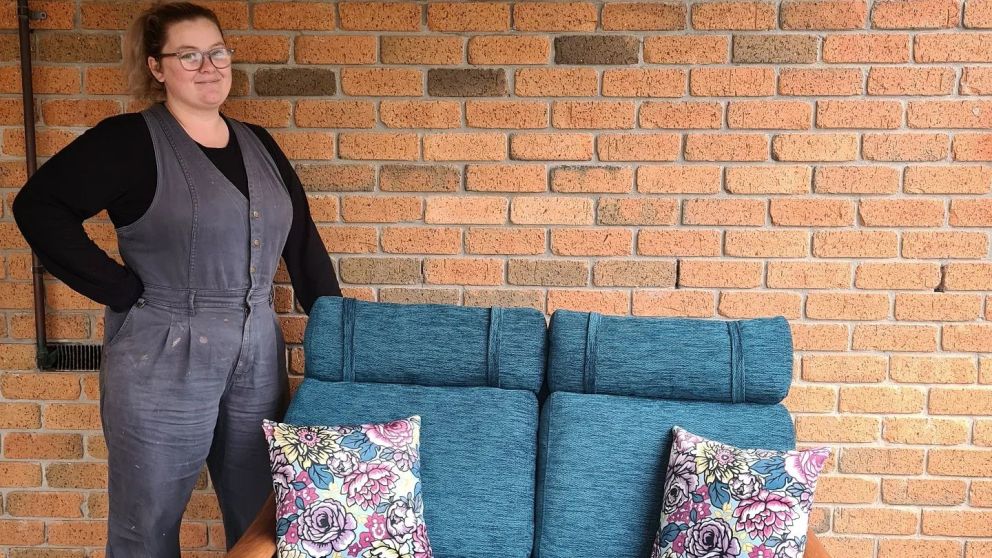 Alice Stewart isn't one for convention, and she isn't your typical tradie. A roller-derby-playing mum of two, this Federation TAFE student believes it's never too late to change your life and to be uncompromising in the pursuit of your dreams.
After a management restructure at her workplace of 15 years, Alice was offered a position managing four departments instead of one but for little more renumeration. Disenchanted, she instead took a chance by accepting a redundancy and leaving a job that didn't fulfill her. With time on her side and the redundancy money in the bank, for the first time in her adult life, she finally had breathing room to figure out what her dream was.
After restoring furniture at home for years and attending a local Men's Shed where she explored her passion for creating things, Alice decided to build on her existing skills and pursue a lifelong passion of working with wood by returning to study, enrolling in a Certificate II in Building Construction, Carpentry Pre-apprenticeship at Federation TAFE.
"It felt very empowering to return to study as a mature-age student and to finally be doing something for myself. I had more drive to learn and perfect all the needed skills. "
Alice believes gender plays no role in excelling in a trade position and as one of the only women in her course took on her studies with an enthusiasm and determination quickly noticed by her teachers. Her efforts were recognised with the EJT Tippett Outstanding Achievement Award which goes to Federation TAFE's Vocational Student of the Year for very high assessment in all course units, exemplary character, and outstanding reports from all teachers.
"It felt good to be seen and acknowledged for my skills and abilities, proving I'd made the right decision for my career."
Alice soon secured an apprenticeship to become a qualified carpenter but unfortunately found she didn't love it. After sharing photos of her furniture restoration work online she was offered a job with a small women-run business specialising in upholstery and furniture restoration, which she accepted. She then made the switch to study a Certificate III in Cabinet Making and hasn't looked back since.
"I love creating and get excited seeing the beauty and potential in every project I take on. Restoration work is different for every piece, and I have the freedom and trust of my clients to do what is needed. The excitement I feel when delivering work and seeing a client so happy is just amazing. I love passing on my skills to others wanting to learn the trade and enjoy the challenge and the freedom of my job. I hope to continue to grow and become stronger in my skills and one day go into business for myself."
If the path to career fulfillment isn't smooth, Alice advises others not to be deterred and not to give up searching for their niche.
"So many people get turned away from entering a trade because they simply don't know about all the different jobs out there and only think of the common ones - carpenter, sparky, plumber, bricky - but there is so much more out there! I'd urge anyone to keep searching until you discover a position that really suits your strengths. There are so many different roles, don't just settle for the first job that comes along. Seek out the people who have the career you want. Ask them how they did it. Ask if they will mentor you."
Her only regret is that she didn't find her dream job sooner.
"I really enjoyed woodwork when I was at school, but my teachers just encouraged us to get our VCE then attend university. I never wanted to go to university, but as a smart kid that's all the teachers encouraged. I would have got into this career a lot sooner if I'd just known it was an option. I've learnt so much from my fantastic teachers and have always felt supported and encouraged to do my best in my studies. Your life can be so good, you just have to take the chance."