Top trade teacher wins national award
4 April 2022
---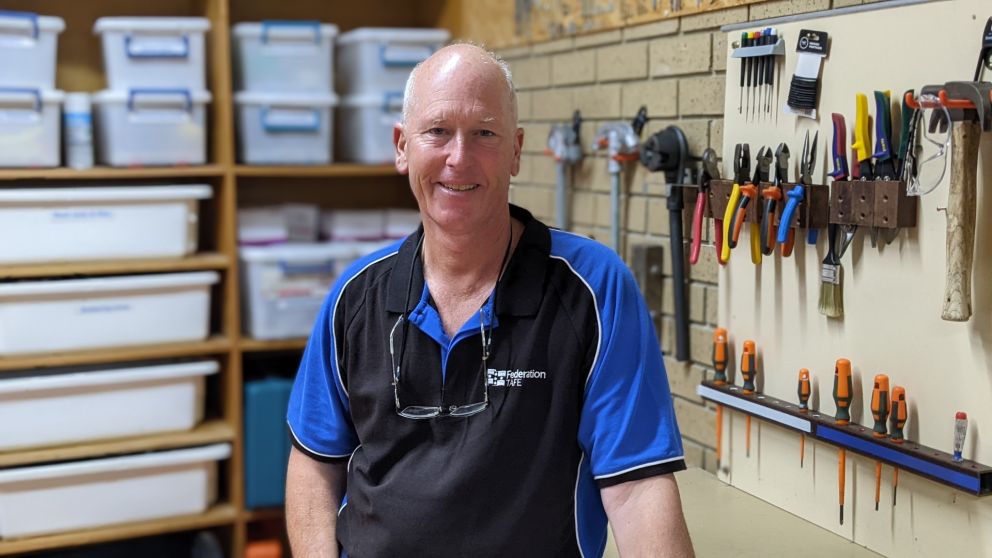 Federation TAFE's electrotechnology teacher, Iaian Fricker, has been awarded the National Electrical Contractors Association (NECA) Trade Teacher of the Year Award.
"I must admit I am chuffed and proud. It does justify my efforts. It meant a lot to my family as I have been working weekends. It proves that we can be successful here, there is the demand and the ability to do it.", Iaian said.
Federation University Pro Vice-Chancellor (Vocational Education and Training) and CEO TAFE, Liam Sloan, said "This award is a credit to Iaian's dedication to his students. He consistently goes above and beyond to enrich the learning experience for his classes as well as guiding them to employment."
Iaian has been working with Federation TAFE since 2013, excelling during COVID-19 by adapting his delivery and supporting his students through difficult times. He is diligent, committed, and professional, with no students dropping out of his classes in the Wimmera during this time.
Iaian worked for the Australian Defence Force for 26 years, bringing the experience and skills of self-discipline, self-motivation, and goal setting into his apprenticeship and consequently teaching.
Iaian was nominated for his commitment to remaining current in his trade, forming deep relationships with local industry, providing bespoke training as required, and his involvement in the World Skills Regional Events with his students professional to National Competition level.
The judges from NECA were highly impressed by Iain's dedication to his students, "Iaian is a dedicated electrical trade teacher who demonstrates a passion for the trade. He has worked tirelessly over the last decade in developing and delivering an education program that fits the needs of regional students, local high school students, and local businesses", they said.
Laser Electrical Human Resources and OH&S Coordinator, Andy Clark said "laian is an important partner to our business, assisting us to develop our apprentice staff through his positive, best-practice teaching methods, regular feedback on our apprentices, and assistance in recruitment."
The Trade Teacher awards are in their 15th year, recognising and rewarding passionate and successful trade teachers for their excellent and commitment to developing talent within the electrical industry.