Persistence and perseverance prevail
31 March 2023
---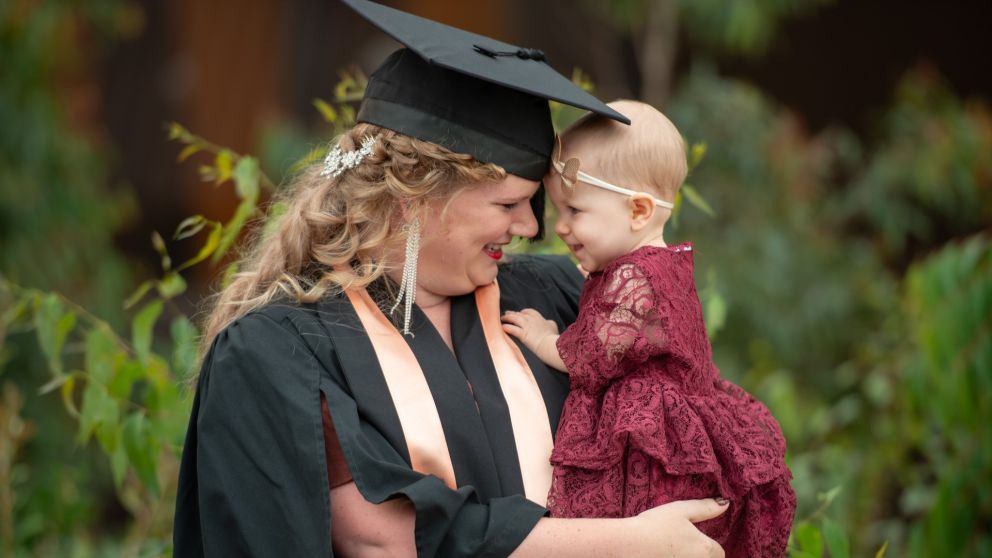 Sarah Gorman has got her hands full. She has just started studying a Bachelor of Nursing at Federation's Mount Helen Campus in Ballarat and recently completed a Diploma of Nursing at Federation's Wimmera campus.
She also works casually as an Endorsed Enrolled Nurse at her local hospital in Horsham, part of the local healthcare provider Grampians Health, and has a one-and-a-half-year-old daughter keeping her busy.
But for most of her life, these kinds of achievements seemed way out of reach for Sarah.
"I'm proud of what I have been able to achieve, but for a very long time the things I'm doing now didn't seem possible and the thought of taking on further education didn't really occur to me," Sarah says.
"I'm a foster child and for most of my life I thought I would have to get a job that didn't require any education because I felt I was not smart enough for further study."
"I did not know what I wanted to be when I grew up. If you asked 7-year-old Sarah, she thought she was going to run a cattery and raise a lot of cats!"
"I was partway through Year 10 and thinking about dropping out before I found out that I was dyslexic. It turns out I am not stupid. I just couldn't read the words in front of me. That makes things hard."
"And for a lot of my upbringing, I didn't have anyone encouraging me that I could do anything. It wasn't until my final foster family agreed to take me on full-time for the remainder of my high school education so I could finish year 12 that I thought things might be different."
Growing up in a small town in the Goulburn Valley, the opportunities for Sarah weren't great. After moving to Melbourne following high school, she was compelled to sign up with a job placement agency to maintain government benefits and support herself.
"They were like, 'you either have to be studying full-time or working full-time' and I thought to myself that I wouldn't be able to do either."
She then moved to Geelong before heading back to the Goulburn Valley but was still unable to find work.
"I wasn't working and my boyfriend at the time, now my husband, asked me to move to Horsham. I thought, well, I've got nothing keeping me here so off I went."
Sarah involved herself in the Wimmera community and got a job as a manager at a local store, but the business soon went into voluntary administration, and she was back to square one.
"I was wondering what the heck I was doing. But there was a university in town, Federation University, and I was getting ads on Facebook promoting nursing and the fact that it had been made free that year was appealing. I was like, well, it's free education. It gives me something to do. Why don't I do nursing? At the time I can't say it was a subject I was particularly passionate about, but it intrigued me and once I started my Diploma, I enjoyed learning all the different things involved and the resulting work."
Sarah was assisted throughout her studies by being awarded a Federation University Australia Foundation scholarship each year of her Diploma.
"It was a great help as it meant I had money to go to paying for accommodation during nursing placements, and towards paying for my schoolbooks."
"Being in a regional area, the scholarship and support from Federation meant I didn't have to drive to Stawell from Horsham each day while I was on placement which would have been exhausting and probably too hard to manage."
"As for other support from Federation, I've also accessed the learning access plan. The learning liaisons have been really helpful. When I found out that I was dyslexic I thought I would just have to deal with it and use the coping strategies I'd relied on up until I was diagnosed. But having access to those programs meant that I was getting support to further my education, especially in an industry where I need to do a lot of reading and writing. I also have Chronic Fatigue Syndrome. Federation University is so supportive of people with invisible disabilities."
Sarah has also felt supported in her transition from Vocational Education and Training to higher education. Because she had already completed the Diploma qualification, she received credits for some units and started as a second-year student in the Bachelor of Nursing.
"I've just hit the ground running basically. There is a subject designed to help transition TAFE students into a Bachelor program where they help us understand how to write assignments and stuff. The fact that the course is flexi-learning with an online element is just so important, otherwise, living in Horsham with my daughter, I probably would have had to stop studying at my Diploma."
"I am the first person in my family to attend university. My mother went through a lot to get her Diploma in Nursing but couldn't achieve further education due to health reasons. I'm proud to be the first person in my family to study a degree and know it will open doors for me."
Sarah's main goal in undertaking the Bachelor of Nursing is to obtain employment that isn't shift work.
"At the moment, most of the work available for Enrolled Nurses is shift work, so by completing my bachelor's degree my hope is that as a Registered Nurse I can get a job as a District Nurse or working with the HART (Higher At Risk patients) Team. Through my own experience I know how important it will be to have enough time for my daughter, so my career has to work around that."
Sarah wants to stay working in the Wimmera region and support her local community.
"I'm involved in the community here. I'm part of the local CFA. And I participated in the Wimmera leadership program. We like the area. My husband has a really good position here too. All the things that we discussed before starting a family are starting to happen. I'm thankful for all the support from my friends, family and the University."
"It's taken me a long time to get to a point where I'm comfortable sharing my story. And I realise that even though I've struggled and gone through some really hard things, other people are too, and maybe by sharing my experience it might help them get through it and achieve what they want as well."