Hack Life at Federation University
Whether you're starting from the start or somewhere in the middle, further education will help you launch or boost your career.
At Federation we've reimagined education in Australia with our co-operative education model and our deep connections with industry. We're combining learning and doing - two actions that have historically been linear.
We are providing more learning opportunities beyond the classroom walls, and more support, so you can Hack Life and fast track your education to your dream career.
Download our course guide and discover a smarter and more efficient way to get educated, experienced and launch or boost your career.
Download the course guide (pdf, 4.4mb)
life hack noun
informal
: a simple and clever tip or technique for accomplishing some familiar task more easily and efficiently.
- Merriam-Webster Dictionary.

Life Hacks are all about eliminating frustrations or barriers in innovative and stunningly simple ways that are efficient and obvious in retrospect.
How can we help hack your education?
Browse our courses and hit the ground running with in-demand skills. If you're a year 12 student, look into our Early Offer Program. And find out how you can receive financial support in the form of scholarships and grants to help you access study sooner.
Fed Universe | A virtual Open Day experience
Explore the best that Federation has to offer at your own pace, with a personalised experience tailored to your interests and needs.
Whether you're researching courses, exploring our campuses, or wanting to get a feel for life at Federation, the Fed Universe is your virtual open door to all we offer.
Fed Universe - Live now
Enter Fed Universe now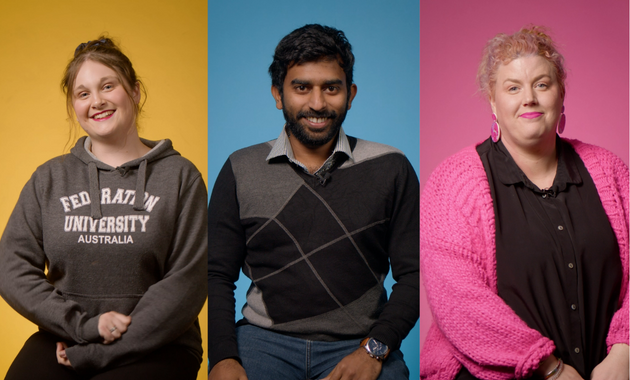 ---
Hear from our students
What do you want out of life? Hear from our past and current students on how Federation helped them find their purpose and the confidence to succeed.
Nurture Life
My education journey with Federation University began with the FAST program. FAST unlocked my potential and led to my success in the Bachelor of Psychological Science.
The expert staff are passionate about their field and care about the success of every student. All my teachers know me by name and have provided me with the flexibility to balance family, work, and my degree.

My program and clinical placement have imparted tangible skills that I apply in academic and workplace settings. I am grateful for the opportunities Federation University provides and look forward to continuing my educational and professional journey with Federation University.
Jacinta Jackson
Bachelor of Psychological Science
Smash Life
I studied Sport Science before embarking on a career as an AFL fitness coach. The quality of the lecturers and the learning environment in my course definitely set me up for work life.
After graduating, I worked as an assistant coach with Essendon, before securing the role of Head Fitness Coach at Port Adelaide Football Club at age 24. I later worked at Hawthorn for 14 years, assisting the club to win four premierships.
My current role is Director of High Performance at Carlton Football Club. I enjoy working with elite athletes, seeing the development of young players – physically and emotionally. No two days are the same in an elite sporting environment. I am lucky to work with highly talented people who push for improvement constantly.
Andrew Russell
Bachelor of Exercise and Sports Science
Shape Life
I had the opportunity to immerse myself in Sri Lanka's environment and culture through the Study Abroad service of Federation University's Global Professional School.
Students and teachers from the University of Peradeniya invited us to plant trees in a section of the Knuckles Conservation Forest – parts of which had previously been cleared for tea cultivation. It was a rewarding experience and I look forward to one day returning to the area to see how it has changed.
I am grateful for this incredible experience and the opportunity provided to me by Federation University to contribute to this important restoration project and put what I'm learning into action.
Kara Sewart
Bachelor of Environmental and Conservation Science
Life Hack: Future-proof your career with Federation's Co-operative Model
Federation is taking traditional work-integrated learning (such as internships, simulated work projects and clinical placements) one step further with our Co-operative education model.
Our Co-operative model, commonly known as a "co-op", is one of the first of it's kind in Australia, linking you directly to your future industry with meaningful connections and life-changing opportunities.
Study a co-op program and you'll gain:
meaningful connections with people and the workplace
more support from your teachers, supervisors and mentors
new skills and projects to boost your resume
new industry connections
motivation to keep you involved in your studies
self-confidence and assurance in your future career
Aboriginal Education Centre (AEC)
The Aboriginal Education Centre (AEC) has a strong and vibrant cultural presence at Federation University with five offices based across the following campuses - Mt Helen, SMB, Wimmera, Berwick and Gippsland. The AEC is the central location for all Aboriginal and Torres Strait Islander matters at Federation University.
Let's help you find what you're looking for
Search hot topics and access live chat
Call 1800 FED UNI (1800 333 864) 9 am–5 pm, Monday to Friday
Need answers? Submit an enquiry to find out more