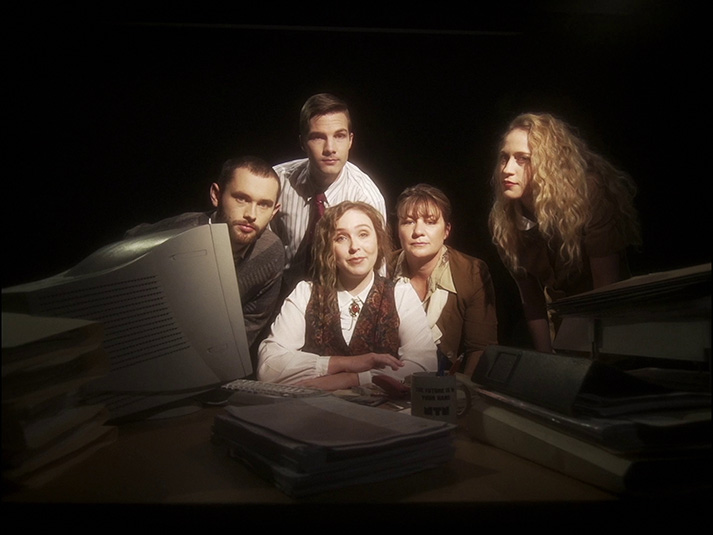 Pilar Mata Dupont
Guirguis New Art Prize 2015
With references such as the 1980s/90s PBS television specials of Sondheim musicals, The Threepenny Opera by Brecht and Weills, and Kafka's The Trial, Purgatorio sits between video art, theatre and parable.
Purgatorio is an Orwellian musical retelling of Dante's Purgatorio from The Divine Comedy, relating it not only to current Australian asylum seeker policy but to global issues with seeking asylum and the idea of 'processing people'. The work focuses on the Kafkaesque bureaucracy that ensues, and runs on a loop, so the character of the 'Applicant' (or Dante) must relive his musical interrogations again and again.
The Brechtian Master of Ceremonies character, 'The Guide' (based on the character of Virgil in the Comedy), leads the 'Applicant' through the levels of purgatory as a dapper people smuggler. A chorus of nine performers play multiple all-singing and dancing parts including the roles of politicians, border security, and case workers.
Purgatorio was created during a residency at the Campbelltown Arts Centre, NSW, between April and July, 2014, and was developed through interviews with Macarthur Diversity Services Initiative, local asylum seekers, refugees, refugee advocates, the UNHCR, and people from the public relations division for the Department of Immigration and Border Protection. The libretto was written through these interviews by Mata Dupont and set to music by her frequent collaborator, composer Ash Gibson Greig.
Since 2011 Pilar Mata Dupont has almost exclusively worked on a solo practice which encompasses photography, performance, and most regularly: video and film. Her last two and half years have been spent travelling, researching, and making work in Australia, Germany, England, Austria, Finland, North and South Korea, and Argentina. This travel, and people Mata Dupont has met while travelling, have greatly informed her recent work, which has focused on finding and interrogating signifiers of national identity, nationalistic tropes, and the triggers of nostalgia.
Mata Dupont's work also continues her research into the malleability and fallibility of history and memory, and often combines many seemingly disparate references to create a new, and often surreal visual world where these themes can be examined. The works are all researched through extensive visual and text based investigation but also through interviews and conversations with local people and communities.
By mixing these signifiers of nation, histories, mythology, and memories, Mata Dupont aims to create work that can reach an audience on many levels. The use of cinematic and theatrical language, which is easily accessible on an emotional and aesthetic level, is one way. Through this the artist creates situations where an audience might question their own beliefs and/or consider the darker or difficult issues behind the seductive surface
Image: Pilar Mata Dupont. Purgatorio, 2014 (video still) single channel video infinite loop Edition 2/5 Courtesy of the artist