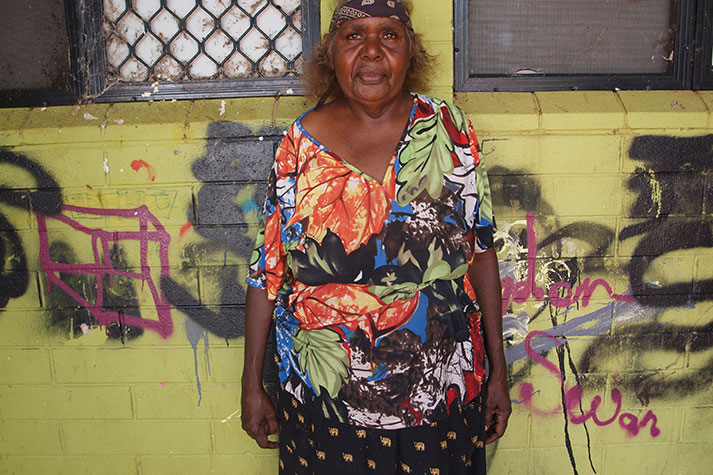 Chris Barry
Guirguis New Art Prize 2015
For the past fourteen years Chris Barry has been conducting her practice amongst specific Aboriginal families living in Alice Springs, Central Australia. Initially she worked amongst family and kin living at Morris Soak, a town camp situated on the western outskirts of the township, and, more recently, those participants collaborating in this current project, living in multifarious town camps and Aboriginal housing in, and around Alice Springs. Her research explores the mediation between photography, performance, and auto/biography—within Aboriginal sociality and sociability—and the colluding space between culture and cultural production. A critical ethnographic approach informs her art practice and writing.
In her current project, CRUISING (A Journey into Culture), a group of Aboriginal women artists living in various town camps in Alice Springs, Central Australia, undertake the daily journey of being picked up from their respective town camp residences and taken to the Art Centre known as Tangentyere Artists. For the past fourteen months Chris Barry has been the co-driver that has been transporting those women on a daily basis. As well, she has been contracted by Tangentyere Council to fulfil the role of Studio Manager. During this period Barry developed a particular and close relationship with six of those women (of the same kinship), and, together, discussed the possibilities of making a video/photographic project based on their relationship—and the everyday lived experiences of those lives. CRUISING is a term the women enjoy using when they have the opportunity to drive around Alice Springs looking for fellow artists in multifarious locations, and, as well, engaging with other related kin walking around town. Hence 'driving' is a form of accessibility into their mutual inter- and intra- subjective lives. The concept of journeying also registers the complexities and contradictions of living under the propriety of a hegemonic community—and its inherent 'expectations'. Cruising, in contrast, suggests the unexpected, ad hoc, incremental, provisional, and multivalent nature of Aboriginal life-ways.
CRUISING (A Journey into Culture), elucidates the interface between Aboriginal and non-Aboriginal worlds, but, more importantly, illuminates the social processes and intra-cultural structures that give dynamic and shape to everyday Aboriginal lives. The collaborative process of making video 'traces' of the women's performances of this journey, over many months, privileges Aboriginal subjectivities from within the specificity and contingency of local daily life. It also explores how this mobile social organisation (the fluidity of kinship relations and their rights and obligations) is being performed in, and around, the township of Alice Springs, and within town camp life itself. In contrast to prevailing misappropriate notions of 'itinerant' and 'aberrant' behaviour, this project is counter-hegemonic to the expectations and propriety of a local non-Aboriginal community and seeks to repatriate dignity and cultural meaning to those Aboriginal women—and their extended families and kin.
CRUISING also continues Barry's ongoing interest in the 'performative moment', set in culture, and set in a practical methodology. The 'performative moment' positions all subjectivities—those in front of the camera and those behind the camera. It becomes a reworking by performance, a space of proximity, mobility, wherein the camera acts as a catalyst and not as a neutral recording device, and that its actual 'presence' is responsible for creating the responses of the participants being filmed. In this sense, photography and performance form part of an act of auto/biographical re-presentation. By using a hand-held camera, Barry enacts both mobility and proximity. In cultural terms, proximity suggests accountability, reciprocity, and the potential for enduring relationships.
Chris Barry would like to sincerely thank and acknowledge the following participants and their families and kin. Margaret Boko, Betty Conway, Rhonda Napanangka, Elizabeth Nampitjinpa, Joanne Wheeler, Louise Daniels, David Boko, Rosalyn Boko, Betty Driffin, Jeremiah Daniels, Tanya Andrews, Miranda Daniels, Peter Conway and Tywin Coultard; The artist would also like to acknowledge the expertise and technical support of Michel Szczepanski, Digital Resource Manager, Victorian College of the Arts, University of Melbourne; and Tangentyere Council.
Image: CRUISING: A Journey into Culture, 2015 video still (Margaret Boko) Courtesy the artist