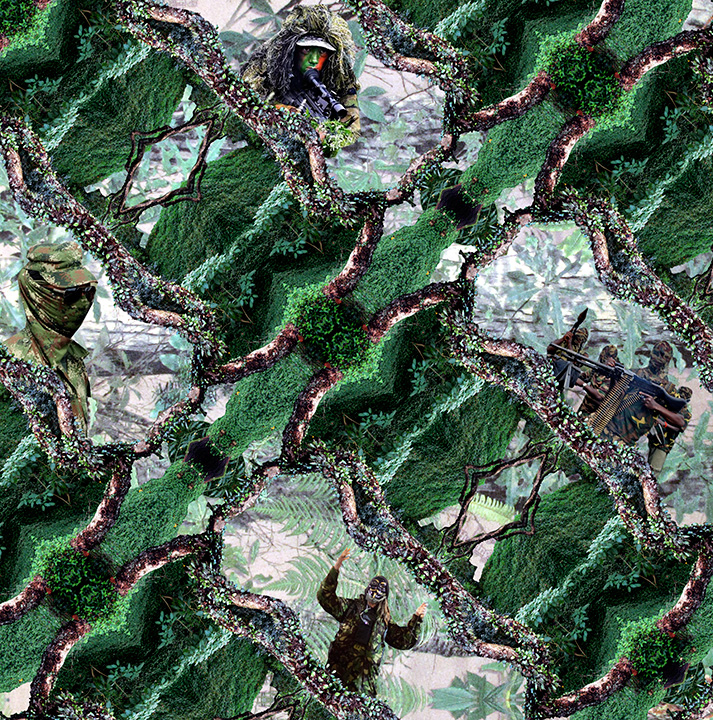 Jemima Wyman
Guirguis New Art Prize 2015
Jemima Wyman's work investigates visual resistance as a feminist strategy through making and documenting 'communal skins'. This work developed as a response to a heightened culture of fear surrounding masking that emerged after 9/11. Focusing on textiles and masking this work aims to explore the formal, political and psychological potentiality of camouflage in reference to collective identity and power relations.
Wyman devised the term 'communal skins' to articulate the role of patterned clothing and masking in creating a collective identity. Wyman documents groups that employ such coverings, usually liberation armies and/ or protestors. She also creates her own 'communal skins' through large-scale embodiable textile based architecture. These 'communal skins' also relate to camouflage through patterning or repeatability: for instance a group all wears the same ski mask so that the individual can be the many. The 'communal skin' is about blending in with each other so as to have power as a collective mass, usually to evade governance and surveillance.
Throughout Wyman's practice she has documented various liberation armies (Zapatistas, FSLN and PFLP) and recent protest movements (including the Free Pussy Riot, Black bloc, Occupy, and Arab Spring) through drawing, collage, textiles, painting and video. These works highlight, among other issues, how collectives use visual resistance to empower and expand their cause.
For GNAP Wyman presents PSYOP - a video with custom-made textiles that records a New Zealand based liberation army practicing their field-craft in a remote location near Karekare. By conflating imagery and scenarios that relate to military strategies, Gestalt psychology and contemporary imaging conventions (especially first-person shooter perspective and selfies) this work brings into association, the optical power of camouflage and PSYOP.
Printed using DIY online technology, the textiles are generated from Wyman's ongoing archive of masked individuals and groups who are engaged in conflict. Wyman's decorative textile design stems from research into propaganda textiles with a specific focus on revolutionary Soviet textiles from the 1920's. Typically these designs combine optical abstract patterns with figurative images to build a short visual narrative that elucidates the particular ideology in question.
The intentional low-fi, DIY quality of the work stems from Wyman's interest in the aesthetics of grass roots organising. Wyman is interested in emphasising patterned fabric and masking as low-tech devices readily available that provide anonymity for the collective face under threat of surveillance and digital imaging. By giving space to these groups that are self-organising and self-representing, Wyman extends the poetic potential of the mask to the audience.
Image: Study for PSYOP, 2014 digital collage size variable Courtesy the artist and Milani Gallery, Woolloongabba, Qld.