Presentations
AI and research: integrity and ethics: celebrating Open Access Week 2023
24 October 2023
Presented by Dr David Blades, Senior Coordinator, Research Integrity and Governance, RMIT University & Dr Fotini Toso, Coordinator, Design and Social Context Ethics Network, RMIT University
This presentation discusses issues related to the use of AI and in particular Generative AI, and research ethics and integrity, for example relating to authorship, peer review, reviewing the literature (which may be an issue for Higher Degree by Research students in particular), and research data governance and management.
AI and Research: Integrity and Ethics (pdf, 2.24mb)
---
Managing real world research data: celebrating Open Access Week 2022
25 October 2022
Presented by Dr Ben Long, Senior Lecturer Chemistry, Institute of Innovation, Science and Sustainability, and a member of the Future Regions Research Centre (FRRC), and Gabi Ceregra, the Data Policy Manager at the Food Agility CRC, developing best practice data management policies for Food Agility projects and industry, and based in the Centre for eResearch and Digital Innovation (CeRDI).
These two presentations discuss the possibilities for and constraints on making real-world research data openly available.
The first recorded presentation by Gabi Ceregra (CeRDI) focuses on creating trust for data sharing, including developing data sharing agreements.
The second presentation by Dr Ben Long (FRRC) focuses on his work leading the Bush Medicine Project, a cross-course multidisciplinary research project aimed at discovering medicinal compounds in native Australian plants.
These presentations are followed by the announcement of the 2022 Library Open Access Award recipient.
View the recorded presentation and slides on FedFlix (Federation staff and students only) >
---
DReSA: Digital Research Skills Australasia
1 June 2022
Presented by Kathryn Unsworth, Manager, Skills and Workforce Development, ARDC and Nick May, DReSA developer.
DReSA: Digital Research Skills Australasia (pdf, 2mb)
---
Enabling your open research: celebrating Open Access Week 2021
27 October 2021
Presented by Angus Cook, Director, Content Procurement and Kate Davis, Director, Strategy and Analytics, Council of Australian University Librarians (CAUL)
---
MetoDHology
19 May 2021
Presented by Dr Katrina Grant, Lecturer, Digital Humanities
Centre for Digital Humanities Research, Australian National University
MetoDHology, presented by Dr Katrina Grant (pdf, 1.78mb)
---
Open access in research practice: the CeRDI experience and presentation of Library OA Award
21 October 2020
Presented by Assoc Prof Peter Dahlhaus, Principal Research Fellow; Dr Megan Wong, Research Associate; Dr Nathan Robinson, Senior Research Fellow
Centre for eResearch and Digital innovation (CeRDI), Federation University
Open access in research practice: use cases from agriculture presentation (pdf, 1.5mb)
---
Virtual laboratories and the NeCTAR research cloud
1 July 2020
Presented by Paul Coddington, Associate Director Research Cloud and Storage, Australian Research Data Commons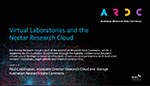 Virtual laboratories and the NeCTAR research cloud, presented by Paul Coddington, Associate Director Research Cloud and Storage Australian Research Data Commons (.pdf 1.5mb)
---
National Imaging Facility: Collaborative infrastructure
28 September 2019
Presented by Professor Graham Galloway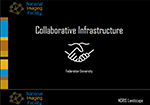 National Imaging Facility : Collaborative Infrastructure by Professor Graham Galloway (.pdf 4.97mb)
---
ARMS (Australasian Research Management Society) 2018 - A whole new world: Library and research office collaboration in the era of engagement and impact
20 September 2018
Presented by by Cheryl Claridge & Katie Donnelly, Liaison Librarians, Federation University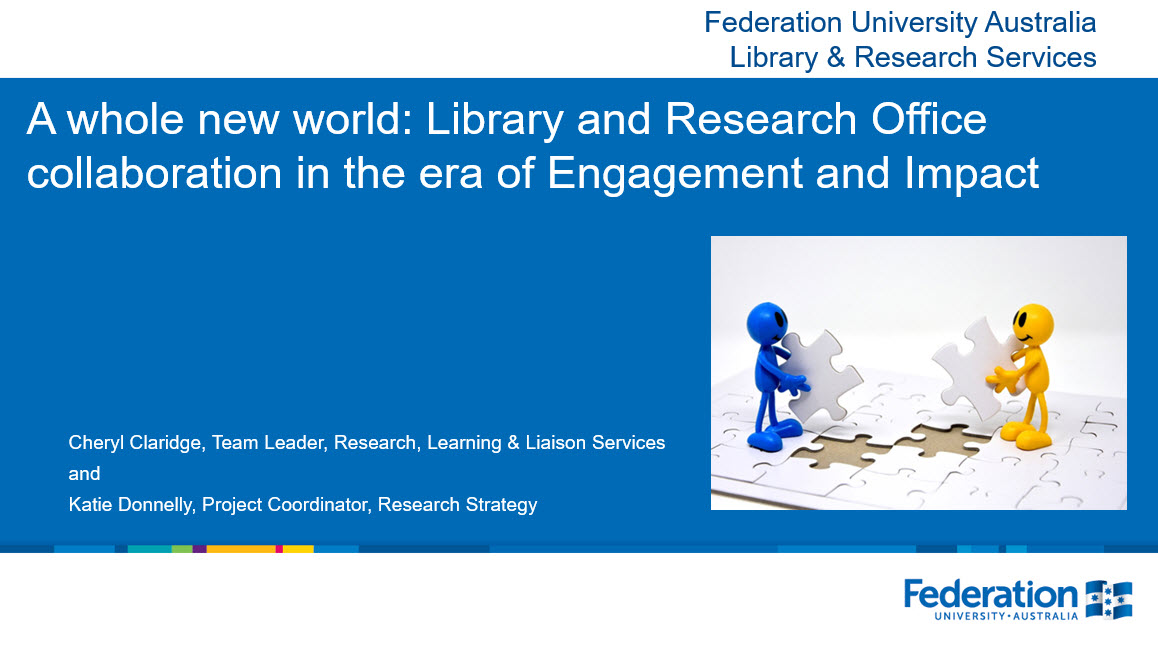 ARMS (Australasian Research Management Society) 2018 - A whole new world : Library and research office collaboration in the era of engagement and impact by Cheryl Claridge & Katie Donnelly, Liaison Librarians (.pdf 320kb)
---