Apeksha Gohil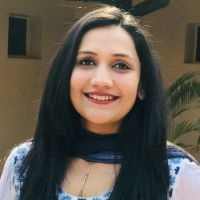 Position: Lecturer
Discipline: Occupational Therapy
Location: Gippsland Campus, Room 5N-120
Phone: (03) 5122 6109
Email: a.gohil@federation.edu.au
Qualifications
Graduate Certificate in Education (Tertiary Education) – Federation University, Australia – (2019-2023)
Certificate IV Access Consulting – Access Institute, Australia – 2021
Doctor of Occupational Therapy (Post-professional) – University of Illinois Chicago, USA – 2016
Bachelor of Occupational Therapy – Manipal University, India – 2011
Teaching
Program
Bachelor of Occupational Therapy (Honours)
Courses
Lifespan Development for Health A (NHPHS1003)
Contextual Determinants of Occupation (NHPOT2014)
Health Promotion for Health Professionals (NHPHS3403)
Advancing Professional Practice (NHPOT4025)
Biography
Apeksha is an occupational therapy lecturer working in the Institute of Health and Wellbeing at Federation University and holds an Adjunct lecturer position at James Cook University in Australia. Before moving to Federation University full-time in 2020, Apeksha worked as a lecturer at Monash University. Apeksha received her Doctorate from the University of Illinois at Chicago, focusing on Universal Design (UD) as an emerging area of practice for OTs.
Areas of expertise
Apeksha brings knowledge and skills in project management related to built environment accessibility through her work in India and the United States. Her research focuses on the role of Occupational Therapy in the Universal Design process to enable OTs to consult with various stakeholders from diverse contexts such as housing, healthcare, and public spaces to reach targeted UD solutions to improve accessibility. Apeksha also provides consultation to various industries in Australia in order to make workplaces accessible for people with various types of disabilities.
Research interests
Universal design
Built environment accessibility
Home modifications
Assistive technology
Anthropometrics
Health promotion
Program evaluation
Supervision
Current - Higher degree research supervision
Associate supervisors (Masters by Research)
Proposed thesis title: Assessment of Powered Mobility Device use among Older Australians in Residential Aged Care Facilities.
2022-2023: Occupational Therapy Honours students
Primary supervisor
Project title: Development of evidence-informed recommendations to create accessible university campus maps for people with physical and sensory disabilities
Publications
Book chapters
Mirza, M., Zakrajsek, A., & Gohil, A. R. (2018). Assessment of the environment of AT use: Accessibility, universal design, and sustainability. In S. Federichi, M.J. Scherer (Ed.) Assistive Technology Assessment Handbook, Second edition. CRC Press
Magasi, S., Gohil, A., Burghart, M., & Wallisch, A. (2017). Understanding measurement properties. In M. Law, C. Baum, W. Dunn (Ed.), Measuring occupational performance: Supporting best practice in occupational therapy,Third edition. New Jersey, SLACK Incorporated.
Journal articles
Unsworth, C. A., Baker, A., Brito, S., Das Neves, B., Dickson, N., Gohil, A., Kahandawa, G., Naweed, A., & Timmer, A. (2022). Views of American and Australian mobility device users and ambulant bus users regarding occupant restraint systems on public buses. Journal of Transport & Health, 25, 101380. https://doi.org/https://doi.org/10.1016/j.jth.2022.101380
Watchorn, V., Grant, C., Tucker, R., Hitch, D., Frawley, P., Ang, S., ... Gohil, A. (2018). Evaluating universal design in built environments - A scoping project. In G. Craddock, C. Doran, L. McNutt, & D. Rice (Eds.), Transforming our World Through Design, Diversity and Education - Proceedings of Universal Design and Higher Education in Transformation Congress 2018 (pp. 689-695). (Studies in Health Technology and Informatics; Vol. 256). Amsterdam Netherlands: IOS Press.
Magasi, S., Harniss, M., & Gohil, A. (2015). Reasonable accommodations affect the validity of scores on the NIH Toolbox Cognition Battery among people with neurological disabilities. Quality of Life Research, 24:9-9
Conference presentations
Development and Evaluation of Universal Design Consultation Guide for OTs
3rd Australian Universal Design Conference, Brisbane, Queensland. DOI: 10.13140/RG.2.2.27640.06407
Accessible Health Measurement: A Role for Occupational Therapy, USC OT summit, California, USA
Language Access in the Vocational Rehabilitation System in Illinois: A Capacity Building Effort UIC Minority Health Conference, Chicago, IL, USA
Associations
Occupational Therapy Australia
Association of Consultants in Access Australia
Interest groups
Local Government Universal Design Network (LGUDN)