Student success celebrated at TAFE Excellence Awards
4 March 2022
---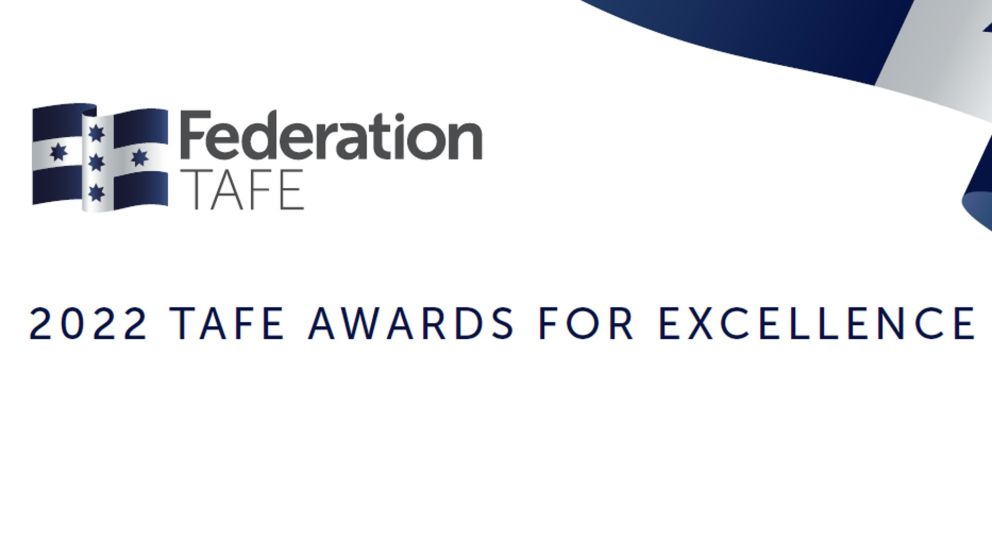 Thirty-nine Federation TAFE students have been recognised for their achievements at the 2022 TAFE Awards for Excellence.
Federation University Pro Vice-Chancellor (Vocational Education and Training) and CEO TAFE, Liam Sloan said, "We are proud of what our students have achieved, and glad to recognise this at the 2022 TAFE Awards for Excellence."
"We appreciate the support of our students' success through sponsors, City of Ballarat, the Rotary Club of Ballarat South and Hip Pocket Ballarat."
Awards presented include the Apprentice of the Year, EJT Tippett Outstanding Achievement Award (Vocational Student of the Year), and the Rotary Club of Ballarat Endeavour Award, among others.
The Rotary Club of Ballarat South's Vocation Director, Neale Gribble said, "We are extremely pleased to be involved with these awards as it allows the Club to acknowledge and reward those students who have excelled in their training and study."
"It is hoped the Awards will encourage the recipients to not only be better tradespeople, but also better citizens."
The awards demonstrate the support of Ballarat behind the TAFE sector, Ballarat Mayor, Cr Daniel Moloney, said "These awards recognise not only the skills and knowledge the students have gained but also the personal development and growth they have shown over that time."
"At the City of Ballarat, we have recognised the importance of industry-based training by sponsoring the Craftsperson Awards since 1956."
"We understand how vital it is that cohort after student cohort gain those valuable skills to help them achieve meaningful employment, boost their personal confidence and make a positive contribution to both their community and its economy."
Federation TAFE student, Isabella Faull, who received the Apprentice of the Year Award completed her Certificate III in Commercial Cookery in December 2021.
"I'm feeling very excited. I feel very proud of myself. I have worked hard and really committed myself to the trade and it's nice to be rewarded," Isabella said.
The 25-year-old travelled around Australia before landing a dishwashing job at Webster's café in Ballarat, sparking her interest in the hospitality industry.
The chef at Webster's noticed Isabella's aptitude for cooking and encouraged her to undertake formal training, as well as supported her with an apprenticeship.
"For me personally, I couldn't have done something that just involved sitting in a classroom. I needed to be doing something active; I am a very hands-on learner. You get to earn money while studying, as you don't get to do in other industries", Isabella said.
"COVID has shone a light on the need to support local business in hospitality, as well as the importance of the industry and opened a lot of people's minds about sustainability of businesses."
Isabella is now running the kitchen at family-owned Clothesline Café in Ballarat.
Full list of winners from the 2022 TAFE Awards for Excellence:
Rotary Club of Ballarat Endeavour Award
Jake Murden (Certificate III in Light Vehicle Mechanical Technology)
Rotary Club of Ballarat South Scholarship
Tara Kelly (Certificate III in Cabinet Making)
Tracey Nesci (Certificate III in Cabinet Making)
Federation University Apprentice of the Year (Sponsored by Rotary Club of Ballarat South)
Isabella Faull (Certificate III in Commercial Cookery)
EJT Tippett Outstanding Achievement Awards (Sponsored by Hip Pocket Ballarat)
Azlan Harris (Diploma of Community Services)
Alfred Mica Smith Award
William Coats (Advanced Diploma of Building Design - Architectural)
Algologie Australia Award
Mia Dopper (Diploma of Beauty Therapy)
Ballarat Horticultural Society Award
Jack Rodgers (Certificate III in Horticulture)
Brinsden, Sergeant, Ironworkers Award
Renald McQueen (Diploma of Engineering - Technical)
Elizabeth Thomas Prize
Dean Parello (Advanced Diploma of Management (Human Resources)
Dermalogica Award
Tahlia Pring (Diploma of Beauty Therapy)
Dura Wear Award
Jason Blood (Certificate III in Commercial Cookery)
Naomi Martin (Certificate III in Commercial Cookery)
Eclipse Ford Award
Dylan Chainski (Certificate II in Automotive Vocational Preparation)
Federation TAFE Growth Award
Amara Hayes (Victoria Certificate of Applied Learning - Foundation)
Frank Pinkerton Award
Jackson Begelhole (Diploma of Graphic Design)
Haircare Australia Award
Jorja Arnold (Certificate III in Hairdressing)
Donna Sautnet (Certificate III in Hairdressing)
Highlands LLEN Award
Ebony Ashmore (Victoria Certificate of Applied Learning (Senior)
Hip Pocket Award
Stephen Fitzpatrick (Certificate III in Commercial Cookery)
Leo Shannon Memorial Award
Clancy Dickson (Certificate III in Plumbing)
Kynan Raven (Certificate III in Plumbing)
LFJ Hillman Award
Mitchell Miller (Certificate III in Electrotechnology Electrician)
Laminex Award
Luke Matthews (Certificate III in Cabinet Making)
Natures Cargo Award
Isabella Faull (Certificate III in Commercial Cookery)
O'Connor's Award
Dillon Wood (Certificate II in Agriculture)
Revlon Professional Style Masters Award
Tinika Gordon Harrison (Certificate II Salon Assistant)
Chelsea Sunblom (Certificate III in Hairdressing)
Robert Sim Building Supples Award
Lachlan Hull (Certificate II in Carpentry)
Dakota Bartholomew (Certificate III in Carpentry)
Ashlee Harris (Certificate III in Carpentry)
Jack Anderson (Certificate III in Carpentry)
Adam Gibson (Certificate III in Carpentry)
Ronaldson Bros. and Tippett Founders Prize
Myles Keith (Certificate III in Engineering - Mechanical Trade)
Shear Genius Award
Mae Wilkie (Certificate III in Hairdressing)
Slow Food Central Highlands Award
Peter Dawson (Certificate III in Commercial Cookery)
TB White & Sons Awards
Amity Smith (Certificate II in Agriculture)
West Coast Beauty Supplies Award
Rachel Parker (Certificate III in Beauty Services)
Wiltronics Research Award
Zac Filcock (Certificate II in Electrotechnology - Career Start)