Maylee's sweet victory at regional Worldskills
19 October 2022
---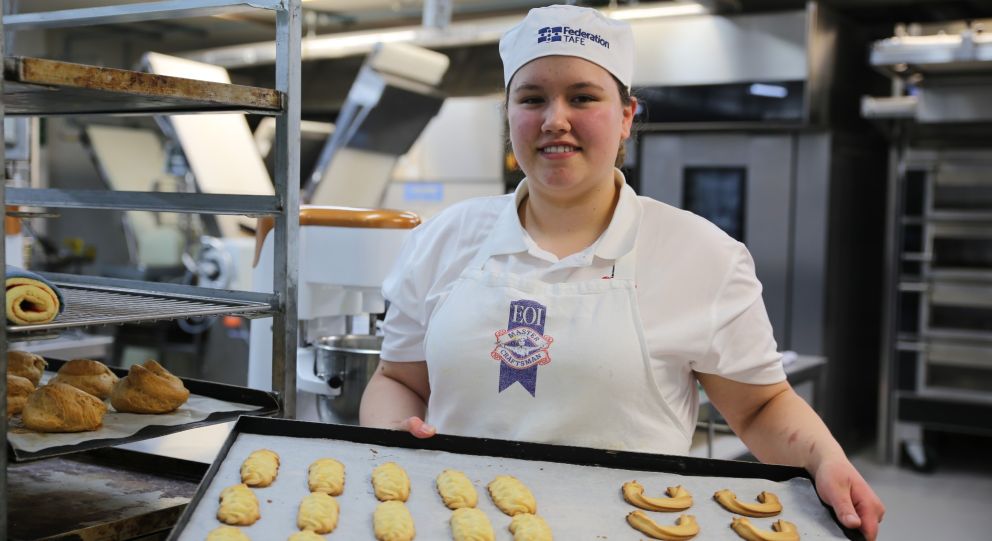 Victory was sweet for Federation TAFE student Maylee Howard who baked her way to the gold medal in the Patisseries event at the recent 2022 WorldSkills Australia Regional Competition.

For as long as 17-year-old Maylee can remember, food and family have gone hand in hand. As a youngster with a passion for baking she experimented in the kitchen at every opportunity, cooking cakes and desserts under the guidance of her dad, a pastry cook of 30 years.
With the traditional school environment not the best fit for Maylee, her parents made the decision to give up their jobs to buy a bakery so she could pursue a career in the industry and achieve her fullest potential. And the switch to Vocational Education and Training has paid off big time with her gold medal in the Patisserie event also providing the opportunity to compete in the WorldSkills National Competition in August 2023.
Maylee, a first-year apprentice Pastry Cook at her family's Geelong business, Porter Avenue Pies & Cakes, is getting hands-on with pastry and dough by studying a Certificate III in Baking at Federation TAFE. Through blended workplace and classroom-based delivery, she is learning all there is to know about baked goods and modern bakery practices, from TAFE baking teachers, Dean Baker and Brendan Carter.
Recognised for her skill and potential, Maylee was invited to compete in the recent Patisserie round of the WorldSkills Regional Competition in Shepparton, overcoming her initial nerves with the support and encouragement of both her family and teachers, by choosing to view the competition as a learning opportunity and a way to meet and make contacts in the baking world.
Maylee prepared for the one-day competition with the help of her teachers who organised a training day at Federation TAFE where they ran through the competition recipes and worked with the same equipment she'd use at the WorldSkills.
Determined to get the most out of the opportunity, Maylee showed tireless dedication. After finishing a full day of work, she would practise baking sponges, Viennese biscuits, and eclairs at home until late into the night, sometimes only getting a couple of hours sleep, so focussed was she on trying out different recipes and practicing decorating her products.
For anyone thinking of entering WorldSkills Maylee says, "Give it a go! It's an excellent chance to learn and gain new skills. It is really important to prepare and keep practising your recipes so you can make the most of the competition day and enjoy it as much as possible."
"It is worth taking every opportunity you can to learn, even if it is way out of your comfort zone. For me, the biggest reward has been that it has opened up opportunities to visit other bakeries for work experience and training and learn from industry professionals."
Maylee was among over 4000 apprentices, trainees and students from across the country whose skills and knowledge were put to the test as they competed for gold, silver and bronze medals in the regionals and the chance to compete in the national heats in Melbourne in August 2023.