Fed College helps Alex rise to the top of the class
6 March 2023
---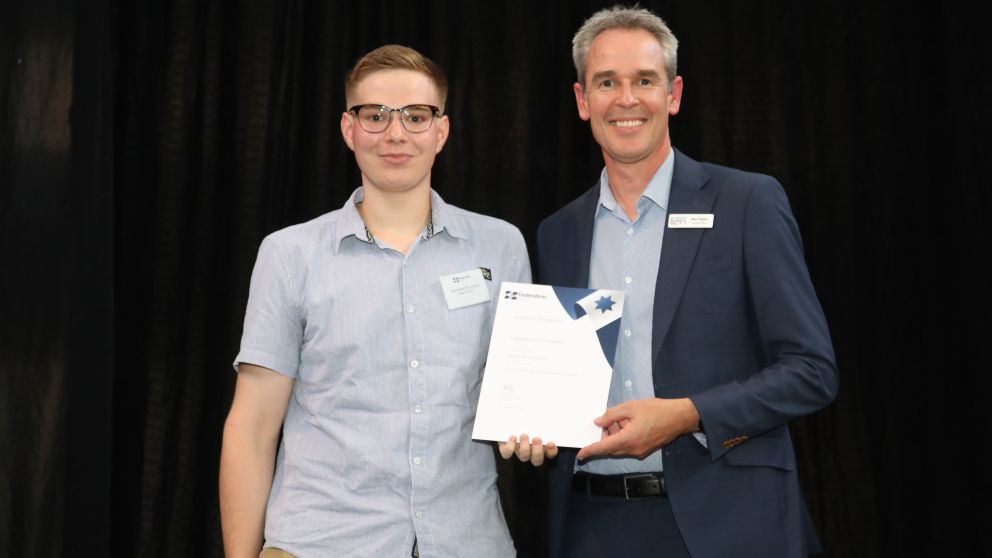 Alex Simmonds was recently recognised with the Highland LLEN Award in the Federation TAFE Awards for Excellence for his dedication and commitment to learning and excellence in his studies, but his educational journey hasn't always been easy.
Alex came to Federation College, which offers young adults that want more choices in their secondary education and an alternative to a traditional high school, after a long period of fractured learning due to difficulty adapting to mainstream education, anxiety and neurodiversity.
Alex says, "During my early years of secondary school I struggled to adapt to the size and population of the campus having transferred from a small country primary school. Although it's not a big issue now, I also have ADHD and High Functioning Autism which played a big part in my early childhood. I struggled with anxiety and low-class attendance and needed a little extra support. At the end of year 11 I found myself seeking more of a challenge and chose to study at Federation College."
At Federation College Alex finally felt comfortable within his learning environment and has since excelled. He undertook the Victorian Certificate of Applied Learning (VCAL), a senior school VCE equivalent which focuses on providing students with practical knowledge and hands-on learning.
After passing VCAL Intermediate (Year 11 equivalent) and seeing how much he'd achieved in just a year he challenged himself to see how much further he could go with his studies.
"In the past I struggled with school and working in teams. However, at Fed College I excelled working in the classroom setting. I put myself out there – well out of my comfort zone – to try new things."
"I completed my work to the best of my abilities, improved my confidence, literacy and communication skills, developed strong leadership skills and, most importantly, passed Year 12."
Not only did Alex pass but he completed his VCAL Senior to such a high standard he was awarded the Federation College High Achiever Award for the senior class of 2022.
But his accomplishments don't stop there. During his studies Alex became the first Federation College student to be successful in their application to undertake work experience with the Victoria Police, widely regarded as being a highly competitive placement.
"When I first put my hand up for the Victorian Police work experience, I didn't expect to be successful but when I found out that I had been accepted I felt privileged as I knew it was improbable that I'd be taken. I found the work experience fascinating, as I saw behind the scenes within the Ararat precinct. My favourite part was discovering how crime scene investigators do their job."
Alex was also the first Federation College student to receive Federation University's Federation Advantage Gold Award for completing over 50 hours of volunteering and service to the community through his participation in the YMCA Victoria Youth Parliament program. This program gives young people a chance to share their views on a wide range of issues impacting their lives and to be heard at the highest levels of the Victorian Government.
"I received the Federation Advantage Gold Award for making changes within the community. Along with other Fed College students, we examined an issue that impacted the community and looked at how to improve it. Our group chose to address the problems with public transport in regional and remote areas and ways to increase efficacy within the network with increased capacity and frequency of buses in regional Victoria."
As a leader and key member of the bill-writing and research process, Alex developed his public speaking skills by debating his team's bill in a live online event. The bill which sought to change the way bus travel was addressed in Ballarat is now on the agenda with government parties who are in discussions to overhaul the system.
Alex's learning journey won't stop at Federation College as he has now been accepted for higher education studies at Federation University.
"I am undertaking the Foundation Access Studies (FAST) Program at Federation University's Mount Helen Campus as a pathway toward a Bachelor of Geoscience. I am unsure where this will take me yet, but I'm sure I'm up for the challenge."
"To anyone considering starting at Fed College, I'd say to make the most of the opportunities, even if that means putting yourself out of your comfort zone. Without Fed College, I don't think I would be where I am today. I am thankful and humbled by all the Federation has done for me over the years."