Ballarat Tech School supports Girls in STEM
28 March 2023
---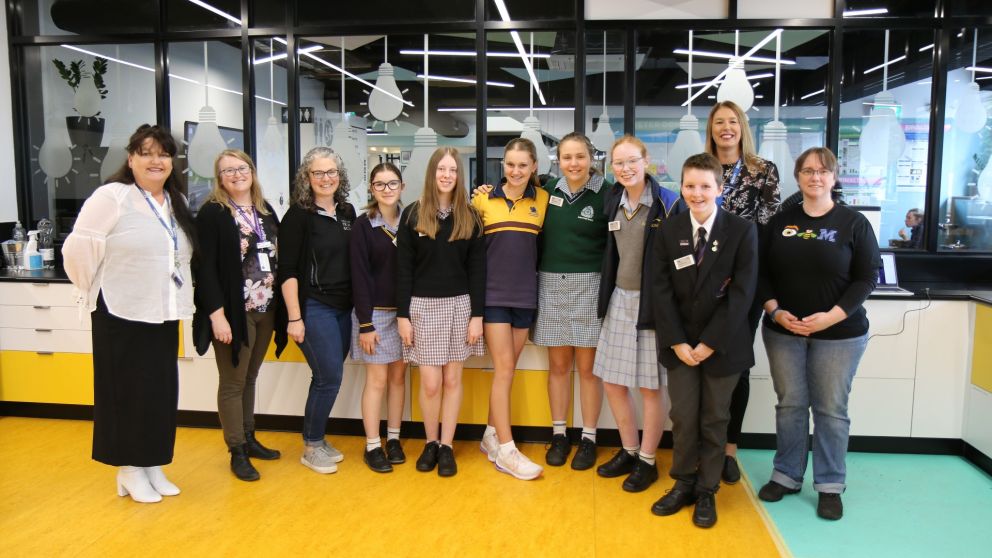 The Ballarat Tech School (BTS) is addressing the under representation of girls and women in science, technology, engineering, and math (STEM) with their annual Girls in STEM (GIS) program, which was established in 2018.
As one of only 10 Victorian Tech Schools, BTS hosts a wide range of the latest technical equipment in its state-of-the-art premises located on Federation University's Ballarat Campus (SMB). The School's innovative GIS program aims to build students' confidence around STEM subjects, encourage the pursuit of tertiary education and future careers in STEM as well as connecting students to a network of girls and women from across the region with a shared interest in the field.
Kirstyn Hall, Program Manager, STEM, says, "Girls have an incredible amount of talent, insight, and initiative to offer the STEM field and are significantly underrepresented across the board in STEM courses and careers. As a society we need to change this. The Ballarat Tech School Girls in STEM program provides young women with access to mentors, experiences and skill development in a focussed and supported environment."
"This year we will have 60 students from 13 local and regional schools engaging with local industries over four two-day workshops across the year. Years 8 and 9 students were drawn from schools across the greater Ballarat region to form the annual cohort who will make connections with each other, meet STEM professionals, and visit local businesses using STEM in their work."
"The Ballarat Tech School GIS program is unique because we tap into our local industries to engage students with STEM in their world with our program designed especially for Ballarat students."
"Recently our students engaged in advanced manufacturing with Mars Wrigley Australia, applied design thinking with Bartlett's Industrial Textile Manufacturing, science research and design with Vitrify Life Sciences and Haymes Paints, and drone flying applications with Victorian Unmanned Ariel Systems."
The BTS GIS program has evolved over the years and in 2023 introduces a new element with the Student Leadership program.
"Invitations to the leadership program were offered to six young people who fully engaged with the 2022 GIS program, showed enthusiasm, and a willingness to give everything a go," Kirstyn said.
One of the new student leaders, Haileigh from Damascus College said, "I was very grateful for this opportunity and glad to be a leader so I can help other young people gain an understanding of science and STEM. The new students should take every opportunity to make the most of it, have fun and take away all the learning they can."
Hayley from Mount Rowan College agrees, "It felt really nice to be offered the opportunity to come back and help the next lot of girls experience all the things I got to. It was really cool to have a play, learn how to use new software and new tools, and open myself up to new ideas."
Eleanor from Ballarat Grammar said, "I was really grateful to be asked to be a leader. I had a really good experience last year. To come back and be able to do it again and see how the program has changed and the new stuff we're able to add to is exciting. I hope it really helps the girls that come through the program. I'd encourage them to make the most of it, give everything a shot and not to say no, just take every opportunity."
Kira from Ballarat High School also enjoyed her time in the program, "GIS was a lot of fun and I was very excited to do it. I always like coming to the Tech School and doing STEM things. If my career isn't in science, then it'll be math. I was leaning towards it, but this program has just solidified it."
Emily from Mount Clear College said, "It felt good to be asked to be a leader because I really enjoyed it last year. Coming back and helping the other kids do it is really nice. I hope they learn some life skills, enjoy what's happening and look into a future in STEM."
Dee from Phoenix College says "Last year was fun so it was a nice surprise to be asked back. I don't think I'll have a career in STEM but I have had fun taking the program. The new students should just try to enjoy it, even if it's not something they end up having a career in, it's still a program worth allowing themselves to be engrossed in."
Some of the student leaders' future ambitions in the STEM world are already clear with Haileigh aspiring to be either a neurologist or pulmonologist or work in agriculture genetics, and Hayley looking at forensic science. Other are less certain but still found the BTS GIS program of great benefit.
Emily concludes "I am not 100% sure what I want to do in future, but the Girls in STEM program has helped me examine areas I have not thought about before."