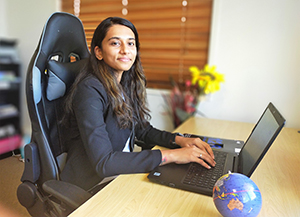 Ms Avantika Patel
Avantika Patel is one of the first students to graduate from Federation University's Brisbane Campus.
Avantika, who studied a Master of Technology (Enterprise Systems and Business Analytics), was instrumental in setting up the Student Mentoring Program at our Brisbane Campus, significantly contributing to student life while assisting new students settle into Federation.
"I chose to study at Federation University because of its well-known teaching qualities, its outstanding graduate employment record and to receive the best student support possible," Avantika said.
"There are many skills I have gained during my studies including new communication and networking skills after attending various events for IT and start up challenge weekends."
Avantika said the course has provided her with the skills relevant for industry, ensuring she is job-ready.
"Working with the latest technology during my studies has provided me with digital literacy and fluent knowledge skills."