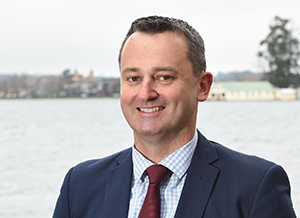 Cr Daniel Moloney
Alumnus Cr Daniel Moloney was elected the Mayor of the City of Ballarat in 2020.
Cr Moloney studied his Master of Business Administration at Federation University's Mt Helen Campus from 2012 to 2014.
His extensive business experience includes management of Victorian Government campaigns, work for Consumer Affairs Victoria, and the establishment of his own small business - a Ballarat and Melbourne-based public relations company.
"I'm proud to be part of Federation University's alumni and most days find myself using the skills I learned in my MBA studies. The skills and learnings of the MBA have helped me navigate finance, human resources, business research and many other areas I previously considered weaknesses."
Prior to studying for his MBA at Federation University, Cr Moloney earned a Bachelor of Arts (Journalism) and a Diploma of Business.