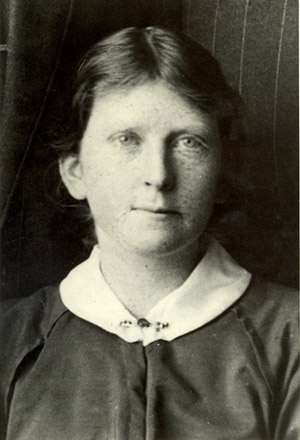 Miss Ruby Lonie
Ruby Lonie was one of Ballarat School of Mines' longest serving employees having enjoyed a successful career spanning 46 years.
Miss Lonie commenced work at the SMB Campus as a Senior Clerk of the Administrative Staff in 1914 before retiring in 1960.
Always known as Miss Lonie, she also worked in the position of Acting-Registrar which was looked upon as a male role during that time. Miss Lonie was praised as being the Registrar's "right-hand man" for many years.
Twenty-four years after having acted as Registrar, the current SMB Registrar, F.F.Ferguson, recognised Miss Lonie's assistance and her extensive knowledge of the history and the administrative procedures of the School, praising her kind interest in people in times of sickness or difficulty and her willingness to help.
The day after her retirement, Miss Lonie sailed from Melbourne to London, mainly to visit Scotland, along with Hestor Darby, the SMB Typewriting teacher who was on long service leave.
Photo courtesy of Victorian Collections