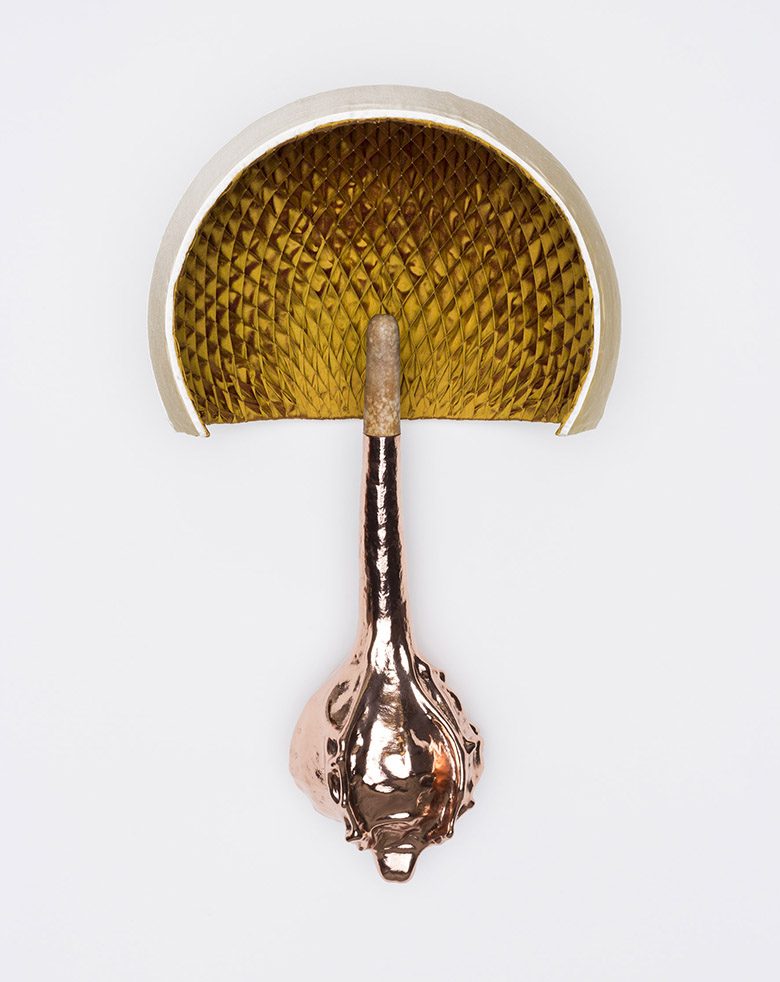 Julia Robinson
GNAP 17
Adelaide artist Julia Robinson's sculpture and installations reflect an interest in religion, the afterlife and death, and how we address these concerns through ritual.
Robinson has long been fascinated by rituals that affirm life and ward off death and her research into a collective set of rituals still performed in England and across Europe today has greatly informed her recent thinking. Many of these localised performances involve costumed 'characters' and are boisterous, bawdy and aggressive, frequently invoking the phallus as a symbol of virility.
At the heart of this work is a playfulness centred around the phallic properties of the gourd and its capacity to be interpreted as both light-hearted and solemn. Hybridising naturally occurring plant forms with costuming and adornment, A Sunny Pleasure Dome, 2016 explores themes of fecundity, ritual and the cycle of the seasons with symbols that affirm life, celebrate fecundity, ward off death, while drawing on her interest in decorative ceremonial costuming.
Julia Robinson is represented by Greenaway Art Gallery (GAGPROJECTS), SA.
Image: A Sunny Pleasure Dome, 2016, copper-plated gourd, silk, thread, ribbon, stainless steel, 65 x 35 x 25cm. Courtesy the artist and Greenaway Art Gallery (GAGPROJECTS), Adelaide.