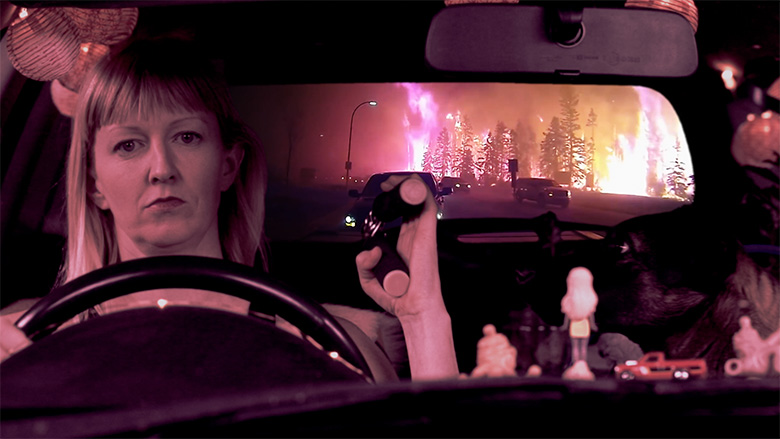 Erin Coates
GNAP 17
Erin Coates is a Perth-based artist and creative producer working across video, installation and drawing. Her work often combines screen elements with installations to create immersive viewing environments focusing on extreme or intimate human physical action in relation to built environments.
She draws on her interests in architecture and film, particularly the genres of body horror and b-grade science fiction. The artist's screen based works include protagonists who find ways to physically interact with everyday spaces by using utopic, absurdist and guerrilla strategies.
Interested in exploring urban and automobile space, Erin explains, "Our experience of car-centric cities, especially like Perth – is strongly shaped by seeing and moving through them from the inside of cars. Acting as a wrap-around cinema screen, the car window provides us with a seated, 'glassed in' view of the exterior landscape, strongly shaping our ideas of it".
In her new work, Driving to the Ends of the Earth, 2016, Erin invites visitors to join her on the back seat, as she takes them on a terrifying, lip-biting, white-knuckle journey, continuing her play on the relationship between cinematic vision and the moving image and chaos within an absurdist internal and external dystopian landscape.
Image: Driving to the Ends of the Earth, 2016, video with stereo sound. Duration: 11:03 mins. Sound design: Stuart James. Camera: Sohan. Ariel Hayes. Gaffer: Dion Borrett. Courtesy the artist