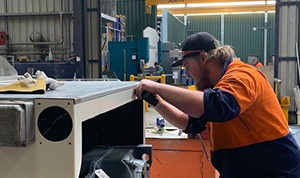 Mr Brendan Thomas
Brendan Thomas is one of our Federation TAFE graduates who became job-ready while studying and gaining industry experience.
He studied a Certificate III in Engineering - Fabrication Trade, Certificate IV in Engineering and completed two years of night school to attain a Certificate in Pressure Vessel Welding.
"By attending trade school I learnt the skill of engineering and fabrication in particular metal plate shaping and forming of different types of cylindrical shapes. Federation TAFE taught me many things and encouraged me to take every opportunity. It is great to bounce ideas off each other to learn and share working experiences. There is a large variety of metal working equipment at Federation TAFE and the teachers have such a vast knowledge of the trade."
Having completed his apprenticeship at Sandwith Industrial Services, Brendan is enjoying the opportunity to specialise in all areas of stainless and structural steel fabrication and installation for a number of industries including food, wine, architectural, domestic and structural sectors.