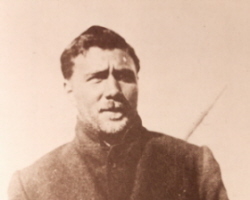 Image from the Federation University Historical Collection
Mr RW (Dick) Richards
Dick Richards was an Australian science teacher who joined the Ballarat School of Mines in 1914, where he gave 44 years of service including 12 of them as Principal.
During his career, Mr Richards developed many pieces of experimental equipment, and during World War II, acted as a scientific adviser in the production of optical apparatus in Australia.
Mr Richards was granted leave from his SMB post and spent three years in Antarctica between 1914-1917 as part of an Exploration Expedition.
Travelling with Sir Ernest Shackleton, Mr Richards' ship Aurora, tethered offshore, was blown away in a gale leaving him marooned for two years with nine other men.
He was awarded the Albert Medal (now known as the George Cross) in 1923 for his efforts on the ice to save the lives of two fellow explorers.
Mr Richards' work was honoured with the naming of the Ballarat School of Mines - R W Richards Medal - awarded annually to a Bachelor of Applied Science graduate.