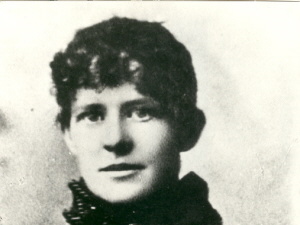 Image from the Federation University Historical Collection
Miss Julia (Bella) Guerin
Bella Guerin was an Australian feminist, woman's activist, political activist and school teacher. She influenced not only her students and university community but also the course of the nation's history.
Her involvement with Federation University began in 1887 when she was appointed to teach the arts and matriculation students at the SMB Campus. She excelled in the position, becoming the first female principal of matriculation classes.
She was Vice-President of the Women's Political Association from 1912-1914, assisting in the 1913 Senate election.
Ms Guerin was an outspoken and intelligent woman, describing her own political evolution as a transformation from an "imperialistic butterfly" to a "democratic grub".
She was a passionate anti-war propagandist and led the Women's anti-conscription Fellowship campaign during the 1916 election.
Bella Guerin Hall – one of the university's halls of residence in Ballarat – is named in her honour.