Bracks, Steve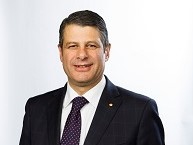 The Hon Steve Bracks, AC
Steve Bracks is one of Victoria's longest serving Premiers.
He graduated from one of Federation University's predecessors, the Ballarat College of Advanced Education, with a Diploma of Business Studies (Accounting) and Graduate Diploma of Education.
After starting as a Secondary Commerce Teacher, Mr Bracks went on to manage a National Community Education centre, the Victorian Printing Industry Training Board, and as State-wide Manager, the Victorian Government's Employment Policy and Program Division.
He subsequently entered Parliament as the Member for Williamstown in 1994. After serving as a Shadow Minister in the Employment, Industrial Relations and Treasury portfolios, he became Leader of the State Opposition in 1999.
Mr Bracks went on to win the election and became Victoria's 44th Premier.
In recognition of his eminent public service to the State of Victoria, and to the Ballarat, the University of Ballarat honoured Mr Bracks with the degree of Doctor of the University (Honoris Causa) in 2007.