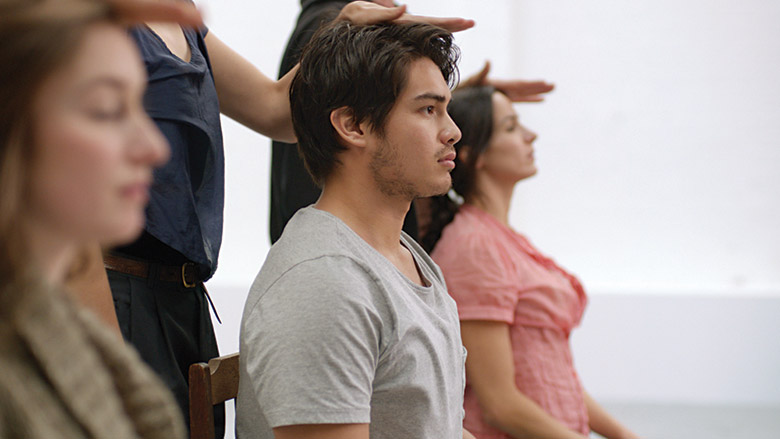 David Rosetzky
Guirguis New Art Prize 2013
David Rosetzky works predominantly in video and photographic formats, creating scenarios in which human behaviour, identity, subjectivity, contemporary culture and community come under intimate observation. He has been making portraits since the early 1990s, using the format to explore relationships between interiority and exteriority, reality and fantasy, authenticity and artificiality. Technically and aesthetically precise, Rosetzky's work is stylised, moody and strikingly beautiful and resembles the idealised images found in high-end advertising and screen culture.
How to Feel, Commissioned by the Australian Centre for Contemporary Art (ACCA) brings together a diverse group of people in what appears, loosely, to be a study of a studio-based therapy and exercise workshop. Over the course of a single day, confidences are shared, personality traits discussed and reflected upon, and repressed emotions and vulnerabilities revealed.
Here Rosetzky subverts the confessional, reality TV and Facebook cultures. Intimate revelations are performed and repeated by the ensemble, thwarting the idea of a 'true' individual self and assumptions about age, gender, sexual orientation and physical appearance.
Image: How to Feel, 2011 (video still) digital video, colour, sound duration 108.39 min Cast: Elizabeth Nabben, Stephen Phillips, Nicole Nabout, John Shrimpton, Yesse Spence, Miles Szanto. Dramaturg: Margaret Cameron. Choreographer: Stephanie Lake, Cinematographer: Katie Milwright. Sound design and composition: J. David Franzke. Courtesy the artist and Sutton Gallery, Melbourne