Meads, Threasa Dr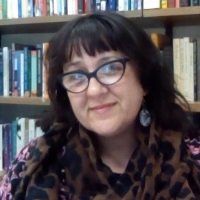 Position: Lecturer
Study area: Humanities and Social Sciences
Location: Gippsland Campus, Room 1E-127
Phone: 5122 6320
Email: t.meads@federation.edu.au
Qualifications
Doctor of Philosophy (Creative Writing) - Flinders University - 2015
Bachelor of Creative Industries (Honours I) (Creative Writing) - Queensland University of Technology - 2007
Certificate III Community Services - Swinburne University of Technology - 1998
Teaching
Programs
Bachelor of Arts (Writing)
Undergraduate Certificate in Creative and Professional Writing
Courses
Writing Stories (BAWRT1001, HENAA1003/1113)
Introduction to Professional Writing (BAWRT1002, HENAA0004/1002/1004/1114)
Writing Creative Nonfiction (BAWRT2002/3002)
Digital Writing (BAWRT2004/3004))
BA Major Project (BACAP3100)
Biography
Dr Threasa Meads is a neurodivergent writer, artist and academic who has been working in the School of Arts at Federation University Australia since the start of 2017. She is the author of two liminal autobiographies, Nobody, which was shortlisted for The Australian/Vogel's Literary Award in 2008 and awarded a Varuna Fellowship in 2009, and Mothsong (Rare Bird Books). In 2012, she was emerging writer in residence at the Katharine Susannah Prichard Writers' Centre. Her writing crosses genres and has also been published in national and international journals including Cordite, Still Point Arts Quarterly, LiNQ, Double Dialogues, and TEXT.
Areas of expertise
With research expertise in creative writing, particularly fiction, creative nonfiction, trauma, and hybrid writing, Dr Meads' writing has a specific focus on life writing, the lyric essay, and feminist magical realism. Threasa's research is driven by her passion for social justice, nurturing creative talent and inspiring excellence in creative and cultural production.
Research interests
Life writing/narrative across various media
New media
Disability discourse
Neurodivergence
Creative nonfiction
Feminist texts
Narratology
Hybrid/experimental works
Magical realism
Practice-led and transpersonal research methodologies/methods
Supervision
Current
Jordyn Presley (Federation)'Strange Magic at Home: trauma, hauntings and time slippage in magical realist and urban fantasy literature.' Principal Supervisor. PhD.
Julie Sharp (Federation) 'A Language of Fantasy: A Stylistic Analysis of Secondary World-Building.' Associate Supervisor. PhD.
Completed
Lynda McCrae (Federation) 'Engaging young people in out-of-home care in the decision-making processes affecting their lives. A Participatory Action Research study of out-of-home care worker perspectives in Inner Gippsland.' (2020) Associate Supervisor. PhD.
Kirstyn McDermott (Federation) 'Never Afters: Female Friendship and Collaboration in Contemporary Re-visioned Fairy Tales by Women' (2020). Associate Supervisor. PhD.
Sharyn Kaesehagen (Flinders) 'Trauma Flow and Resilience in Knit Lit' (2018) Associate Supervisor. PhD.
Publications
Books
Meads, T (2016) Nobody: A Liminal Autobiography. USA: Rare Bird Books, A Vireo Book.
Meads, T (2016) Mothsong: A Liminal Autobiography. USA: Rare Bird Books, A Vireo Book.
Refereed journal articles
Meads, T (2020) 'Intersections of Therapy and Aesthetics: Ekphrasis, Magic Realism, and Healing Child Abuse in Contemporary Autobiography.' In/Stead Retrospective. Double Dialogues.
Meads, T (2019) 'Liminal interventions in the regional creative writing classroom.' TEXT Special Issue 54: Writing and Researching (in) the Regions April [http://www.textjournal.com.au/speciss/issue54/Meads.pdf]
Meads, T (2017) 'We might as well call it a boat.' TEXT Special Issue 39: The Essay, April [http://www.textjournal.com.au/speciss/issue39/Meads.pdf]
Other research details
Meads, T (2020) 'Net Carries Water.' Lyric essay in Cordite Poetry Review. May [http://cordite.org.au/essays/net-carries-water/]
Meads, T (2015) Folded in on yourself in this way you become: A liminal-autobiographical map of healing from child abuse. PhD. Flinders University.
Associations
Member, Baw Baw Writers' Network
Member, Women's Life Writing Network
Member, IABA (International Auto/Biography Association)
Member, IABA Asia-Pacific Chapter
Member, Australasian Association of Writing Programs (AAWP)