Nice, Kylie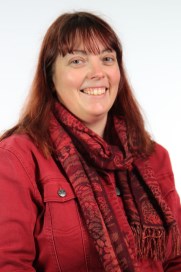 Position: Lecturer
Study area: Education
Location: Mt Helen Campus, T Building, Room 213
Phone: 5327 9722
Email: k.nice@federation.edu.au
Qualifications
Master of Education – University Of Ballarat - 2004
Bachelor of Early Childhood Studies - University of Melbourne - 1999
Diploma of Sustainability - University Of Ballarat – 2008
Diploma of Vocational Education and Training - University Of Ballarat – 2005
Graduate Certificate of Education (Tertiary Education) - University Of Ballarat – 2000
Certificate IV in Assessment and Workplace Training - University Of Ballarat – 2003
Workplace Assessor (Train the Trainer) - University Of Ballarat – 1997
Associate Diploma Of Social Science – Pre-school Mothercraft Nurse (Child Care) - 1993
Teaching
Programs
Bachelor of Education (Birth-Year 6)
Courses
Including Children with Additional Needs (EDECE1013)
Interacting with Children (EDECE1009)
Teacher Identity (EDECE1001)
Leadership and Advocacy (EDECE3019)
Investigating: Science and Environmental Education (EDECE2002)
Programming in Early Childhood (EDECE3005)
Play as Curriculum in Early Childhood Settings (EDECE3006)
Nature Pedagogy (EDECE3018)
Biography
Kylie is a Kindergarten Teacher working in the Faculty of Education and Arts. Kylie joined Federation University Australia in 1997 moving in the merger with the University of Ballarat and previous Wimmera Institute of TAFE. Previous to Federation University, Kylie worked at Edenhope Kindergarten where she was a Kindergarten Director and has previously been the Co-ordinator and room leader of Child Care Centres in country and metropolitan areas.
Areas of expertise
Kylie is predominantly an early childhood teacher working across a variety of areas. She has worked mostly in the area of early childhood and leadership with a specific interest into the phenomenon known as Education through Nature Play. Along with this, she has broad interests in other facets of early childhood education and students with diverse learning requirements. Kylie's research interests can be slotted into three categories:
(1) Nature Pedagogy, Play and Learning
Kylie's research into Nature Pedagogy and unstructured play examines the role that play in natural environments has on educational learning outcomes and the well being of individuals. In particular, the impact of learning with nature in nature through children's interests is a specific interest of the research.
(2) Early Childhood Leadership advocacy and the Early Childhood teacher's voice
As a former Kindergarten teacher and Child care Director, Kylie has a particular interest in the growing voices of Early Childhood Teachers and Educators. In more specific cases, Kylie is interested in the interplay between societal views of the role that Early Childhood Teachers play out in the community.
(3) Teaching diverse Learners through diverse teaching styles
Kylie has a strong commitment to understanding regional societies and communities and their needs and equity concerns around all facets of education. In relation to meeting diverse student needs, she has a strong commitment to exploring new teaching styles and delivery modes with consideration for equity across both the city and country. Kylie aims to continue working with Early Childhood students in regional communities around access issues and other important rural/regional issues in the Early Childhood Profession.
Research interests
Nature Pedagogy in the Early Years and the Australian context
Play as a means for learning across all educational settings
Sustainable Practices in the Early
Providing supportive learning environments that allow for diverse learning styles through online and distance education and varied presentation techniques.
Publications
Refereed conference proceedings
Lord, A., Burns, J., Nice, K. & Warden, C. 2016, ' Creating capacity to teach with nature to inspire new professionals', at Early Childhood Australia National Conference 2016, Federation University, Ballarat.
Other research details
Kylie is currently enrolled in a PhD at Federation University researching Nature Pedagogy and the teacher's voices in the Early Years.
Associations
Early Childhood Australia
Victorian Institute of Teaching
International Nature Pedagogues
AMAZE
Sustainability Interest Group (Australia)