Ambrosy, Josh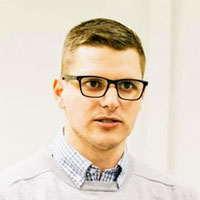 Position: Lecturer
Study area: Outdoor Education
Location: Mt Helen Campus, Room T303
Email: j.ambrosy@federation.edu.au
Qualifications
Doctor of Philosophy – Deakin University - 2021
Master of Education (Coursework with Minor Thesis) – Deakin University – 2015
Bachelor of Science/Bachelor of Teaching (Science) – Deakin University - 2011
Teaching
Programs
Bachelor of Outdoor and Environmental Education
Bachelor of Sport, Physical and Outdoor Education
Bachelor of Secondary Education
Master of Teaching (Secondary)
Courses
Outdoor Education Curriculum 1 (OEEDU3500/EDMAS6024)
Outdoor Education Curriculum 2 (OEEDU3100/EDMAS6124)
Science Curriculum 1 (EDBED3029/EDMAS6017)
Science Curriculum 2 (EDBED3129/EDMAS6117)
Education Outdoors (OEEDU4500)
Biography
Josh is a lecturer in the Institute of Education, Arts and Community at Federation University. His teaching interests include outdoor education, science education and professional practice. Josh's research focuses on different models of teaching and learning in middle years education. Josh uses the arts-based methodology of poetic inquiry within his research. Josh has worked in several P-12 school contexts across Government, Independent and Catholic sectors. Josh is also heavily involved in multiple professional associations related to his work in the outdoor and broader education sectors. His contributions to these groups involve: speaking, professional writing and advisory panel membership. Josh has also served on multiple advisory panels related to outdoor education curriculum at both a state and federal level.
Areas of expertise
(1) Year nine- and middle-years programs
Josh's research on year nine programs has focused on how current programs utilise curriculum and pedagogy to engage students at these year levels in schooling and the barriers that schools face in developing and maintaining these programs.
(2) Arts-based methodologies
In his research, Josh uses arts-based methodologies as non-representational ways of understanding, deconstructing and representing what is happening in middle years programs. Within his doctorate, Josh employed three different forms of poetic inquiry to 'understand' and 'deconstruct' what was happening in the context examined.
(3) Educational policy
Josh has a strong interest in educational policy. In particular, those related to both curriculum and outdoor activities.
(4) Outdoor education curriculum
Josh strongly advocates for the inclusion of outdoor education in the curriculum. He has undertaken several roles for the VCAA and ACARA around projects to update the curriculum in this area.
Research interests
Year nine programs
Middle years education
Arts-based methodologies
Poetic inquiry
Publications
ORCID Profile https://orcid.org/0000-0002-6123-3620
Associations
Outdoors Victoria – Board Member
Australian Association of Educational Research