Pasakos, Jimmy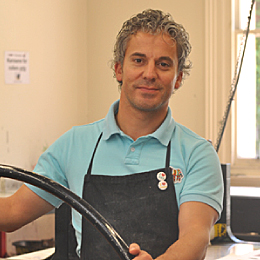 Position: Lecturer
Study area: Visual arts
Location: Camp Street Campus, Post Office Building, Room P217
Phone: 5327 8620
Email: j.pasakos@federation.edu.au
Qualifications
2020 - Graduate Certificate in Tertiary Education, Federation University Australia
2007 - Certificate IV in Training and Assessment, University of Ballarat
2005 - Graduate Diploma Education, Visual Arts, University of Melbourne
1999 - Postgraduate Diploma Multi-Media, Western Metropolitan College of TAFE
1993 - Masters of Fine Art, Monash University
1989 - Post Graduate Diploma, Fine Art, Printmaking, Monash University
1988 - Bachelor of Arts in Fine Art Printmaking, Chisholm Institute of Technology
Teaching
Programs
Bachelor of Visual Arts
Courses
Collaborative Workshop 3 (Production) (ACACW2003)
Collaborative Workshop 4 (Production) (ACACW2004)
Studio Practice Drawing (CVASP1000)
Visual Art Studio Practice 5 (VASAP3005)
Visual Art Studio Practice 6 (VASAP3006)
Biography
Jimmy Pasakos is an artist living and working in Ballarat, Victoria where he is Visual Arts lecturer and Coordinator at the Arts Academy, Ballarat. Pasakos was born in Melboune and studied at Monash University where he completed a Bachelor of Visual Arts, a Post Graduate Diploma majoring in Printmaking and a Master of Fine Art majoring in Printmaking & Drawing.
Pasakos has held regular solo exhibitions and participated in group / curated exhibitions nationally and internationally. Pasakos core works are in print and drawings. He reflects the scenes of the Melbourne Docklands; it holds many experiences of his childhood. The continuous work is part of an ongoing personal journey to endeavour to understand belonging and identity, to form his own connection between two worlds of his Australian and Greek heritage.
His peered reviewed papers on his 'identity and heritage' have been delivered to IMPACT conferences overseas 2013 Dundee, Scotland, 2015 Hangzhou, China, 2018 Santander, Spain. IMPACT stands for 'International Multi-disciplinary Printmaking, Artists, Concepts and Techniques'.
Website:www.jamespasakos.com
Founder of Goldfields Printmakers.http://www.goldfieldsprintmakers.com
Areas of expertise
Pasakos is predominantly a 2D artist working across a variety of disciplines and methods in Visual Arts. Years of professional practice and valuable experiences in the field of solo and group exhibitions, nationally and internationally has allowed Pasakos to further develop student's awareness and knowledge in the Visual Arts. Combined with his teaching and learning knowledge and understanding, Pasakos has been able to nurture students with critical analysis and deliver technical skills across 2D disciplines and methods. Pasakos research can be slotted into two categories:
(1) Research, Solo and Group Exhibitions
His research is his ongoing creativity and continuous art works. His works are an ongoing series portraying the Docklands of Melbourne, Pasakos continues the narrative of travel and discovery in new works. During recent travels overseas he has often considered the valuable migrant stories of travel. These new works reflect these powerful experiences as they act as reminders of the fragility of our sense of self in the world, and the way in which that sense of identity may develop and spawn new cultural identities that change or shape values of other cultural frameworks.New and ongoing works have developed and explore travel, memory, identity and belonging for Pasakos. Greek landscape images appear dreamlike, surreal and mythic. These works connect both worlds for the artist, Melbourne and Kos, Greece, they serve as a metaphor for a mysterious journey and a portal of a sense of place.
(2) Community Engagement
Pasakos is an elected committee member of the Print Council of Australia since 2012. He supports, participates and contributes in meetings and discussions throughout the year. The Print Council of Australia Inc. (PCA) is a national not-for-profit member organisation that promotes contemporary Australian printmaking, including artist books, zines, and works on paper.
The PCA has a Committee of Management representing all states and territories of Australia, and a part-time staff of four complemented by a team of volunteers. Through the quarterly journal Imprint, the annual Print Commission program, exhibitions and other events the PCA supports the work of its member printmakers and promotes excellence and innovation in the field.
Pasakos has a strong interest in community engagement in the arts. He is the founder and the convener of the Goldfields Printmakers. The collective was formed in 2012 as the result of an idea that was developed by Pasakos after attending the international 2011 IMPACT7 conference in Melbourne, Australia.
Its first meeting was held at one of the artist's studios in the town of Castlemaine. Since that time the collective would meet at various times throughout the year and during these meetings, artists would share experiences, provide workshops, work on print exchanges and develop new projects for the future. Over the years, the collective has successfully exhibited throughout the state, nationally and internationally.
Exhibitions
| | |
| --- | --- |
| 2018 | 'The Journeying Printmaker' IMPACT10, Santander, Spain |
| 2016 | 'Docks & Wharves' Tacit Contemporary, Melbourne |
| 2011 | 'Peeking through the Portal, Warrnambool Art Gallery |
Research interests
Creating new works in Print / 2D for solo or group exhibitions.
Print related media and Printmaking methods and techniques.
Docklands of Melbourne.
Teaching Visual Arts – 2D.
Associations
National Gallery of Victoria
Art Gallery of Ballarat
Print Council of Australia
Goldfields Printmakers