Wilson, Carole Assoc Prof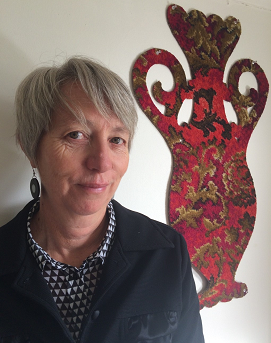 Position: Deputy Dean, School of Arts
Study area: Creative Arts
Location: Camp Street Campus, Room C305 and Mt Helen Campus H239
Phone: 5327 8610
Email: c.wilson@federation.edu.au
Qualifications
PhD – University of Ballarat 2001
Graduate Diploma in Education – University of Ballarat (Ballarat College of Advanced Education) 1987
Diploma in Art – RMIT (Philip Institute of Technology) 1984
Teaching
Program
Bachelor of Arts Honours (Creative Arts)
Supervision of PhD and Masters students in Creative Arts
Course
AABCA4023 Studio Project A
AABCA 4024 Studio Project B
AABCA 4012 Exegesis
Biography
Carole Wilson is an artist living and working in Ballarat, Victoria where she is Associate Professor in Visual Arts and Deputy Dean in the School of Arts. Carole was born in Canberra and studied at both the Canberra School of Art and Philip Institute of Technology, now RMIT, in Melbourne and completed a PhD at the University of Ballarat in 2001. Her original training was in printmaking and she was a founding member of Jillposters, feminist poster group, in 1983 and worked at Another Planet Posters, Melbourne.
Carole has held regular solo exhibitions and participated in curated exhibitions nationally and internationally. For the past twelve years she has utilised discarded and salvaged materials such as floral carpets, maps and atlases to create works which engage with aspects of botany, garden history, travel and historical ornament. In recent years she has undertaken residencies in Italy, the US, Malaysia and The Netherlands which have all had a significant impact on her work. She is represented in many public collections including the National Gallery of Australia, the Powerhouse Museum, State Library of Victoria and a number of regional and university galleries. Her posters are in museum collections in Finland, the Czech Republic, Russia and Poland
Areas of expertise
Practice led research in the visual arts, particularly in the fields of printmaking, textiles, works on paper, painting and installation.
Research interests
Carole is a member of the Artful Engagements with Place: Space, History, Society research group which activates social, political, environmental and historical themes, from the personal to the global, to interrogate the human and more than human forces that shape our past, define our present and influence our future. She supervises broadly across the creative and visual arts at Honours, Masters and PhD levels.
Supervision
Tony Griffin, Shelter from the Storm, (PhD) Principal Supervisor
Ken Kronberger, Artifice and Illusions within the Diorama: a comparison to animated screen art (PhD) Principal Supervisor
Elise Whetter, Applied Aspirations: Design and Applied Art at the Ballarat Technical Art School during the early twentieth century (PhD) Principal Supervisor
Anna Fargo, The making and placing of a personal view: questions of place (Masters by Research) Principal Supervisor
Georgia Janetzki, Traces of the female self: Exploring self-portraiture and the documentation of women's art through traces, impressions and residues via contemporary print practice (Masters by Research) Principal Supervisor
Melissa Proposch, Cupping the Light – reconciling the shadow Self through printmaking process and practice (Masters by Research) Principal Supervisor (Masters by Research) Principal Supervisor
Lauren Murray, To Wandiligong: a journey through light, time and distance (Masters by Research) Principal Supervisor
Fiona Crawford, When you go looking for me, I am not there (Masters by Research) Principal Supervisor (Masters by Research) Principal Supervisor
Publications
Major exhibitions
| | |
| --- | --- |
| 2018 | Patterns of Collecting: From the Bower at The Johnston Collection, (With Loris Button, Deborah Klein & Louis Saxton). The Johnston Collection Museum, Melbourne. |
| 2017 | From the Bower: patterns of collecting, (with Loris Button, Deborah Klein & Louis Saxton) Warrnambool Art Gallery & Art Gallery of Ballarat |
| 2016-17 | Don't Be Too Polite: Posters and Activism, The Ian Potter Museum of Art, The University of Melbourne |
| 2016 | Field Notes Penang, Langford 120, Melbourne |
| 2014 | Upon Return, (with Loris Button), Post Office Gallery, Federation University, Ballarat |
| 2013 | Scala, Hanes Art Gallery, Wake Forest University, Winston-Salem, North Carolina and Gallery FAB, University of Missouri-St Louis, St Louis, Missouri |
| 2013 | Got the Message? – 50 Years of Political Posters, Art Gallery of Ballarat |
| 2011 | The Nature of Things, Charles Darwin University Gallery, Darwin |
| 2010-11 | Mrs Darwin's Garden, Art Gallery of Ballarat, Victoria |
| 2010 | Mrs Darwin's Garden, 24HR Art Northern Territory Centre for Contemporary Art, Darwin, Northern Territory |
| 2008 | Contained Worlds, Dianne Tanzer Gallery, Melbourne |
| 2007 | Amphora, Dianne Tanzer Gallery, Melbourne |
| 2005 | Gardenesque, (with Louise Saxton) Maroondah Gallery, Craft ACT, Ararat Gallery |
| 2004 | Gardenesque, (with Louise Saxton) Ballarat Fine Art Gallery and Benalla Art Gallery |
| 2000 | Stitch, Ararat Gallery, Victoria |
| 1998 | Text textile 2, Helen Maxwell Gallery, Canberra |
| 1998 | Text textile, Dianne Tanzer Gallery, Melbourne |
| 1996 | Shal, Dianne Tanzer Gallery, Melbourne |
| 1995 | Mantra, Helen Maxwell Gallery, Canberra |
| 1994 | Prayers and Mantras, Dianne Tanzer Gallery, Melbourne |
Awards and grants
2015-17
Chief Investigator on: Developing New Approaches to Ethics and Research Integrity Training Through Challenges Posed by Creative Practice Research (Innovation and Development) awarded by Office for Learning and Teaching
2016-17
Finalist, Tidal 16, Devonport Art Gallery, Tasmania
2016
Finalist, Banyule Works on Paper Award, Hatched Contemporary Art Space, Melbourne
2014
Finalist, 2014 National Works on Paper Award, Mornington Peninsula Regional Gallery
2013
Finalist, Togart Contemporary Art Award, Chan Contemporary Art Space, Darwin
2012
Finalist, 37th Alice Prize, Araluen Art Centre, Alice Springs
2010
Finalist, 36th Alice Prize, Araluen Art Centre, Alice Springs
Finalist, Paul Guest Drawing Prize, Bendigo Art Gallery
2009
Winner of the Flanagan Prize, St Patrick's College, Ballarat
Finalist, City of Hobart Art Prize, Tasmanian Museum & Art Gallery, Hobart
2008
Finalist, Swan Hill Print and Drawing Acquisitive Award, Swan Hill Regional Gallery
Acquired, Tallis Foundation 2008 National Works on Paper Award, Mornington Peninsular Regional Gallery
2007
Finalist, City of Banyule Works on Paper Award
Finalist, City of Darebin – La Trobe University Acquisitive Art Prize
2004
Public grant for exhibition catalogue - University of Ballarat
2002
Regional Arts Victoria and City of Ballarat Community Grant
Artist in Residence at Uniting Care Ballarat
2001
Arts Victoria and Ballarat Specialist School
Artists in Schools Residency Program
1996-99
University of Ballarat Post Graduate Research Scholarship
1999
Finalist, Geelong Print Prize
1992
Special Jury Prize
Chaumont 3rd International Poster Festival, France
1990
Australia Council for the Arts
Grant for study and lecture tour to New Zealand
1988-89
Australia Council for the Arts and Arts Victoria
Artist in Residence, Red Planet, Melbourne
1988-90
Australia Council for the Arts & Arts Victoria
Artist in the Community, Red Planet, Melbourne
Work held in public collections
National Gallery of Australia, Canberra
Art Gallery of Western Australia, Perth
Lahti Poster Museum, Finland
Powerhouse Museum, Sydney
Artists' Central House, Moscow
State Library of Victoria, Melbourne
Moravska Gallery, Brno, Czech Republic
Warsaw Poster Museum, Warsaw, Poland
Art Gallery of Ballarat,Victoria
City of Maribyrnong, Melbourne
City of Banyule, Melbourne
Mornington Peninsula Regional Gallery, Victoria
Federation University Australia, Ballarat, Victoria
Charles Darwin University, Darwin
Ian Potter Museum, University of Melbourne
Cited in publications
Traudi Allen, Homesickness: Nationalism in Australian Visual Culture, Macmillan, Melbourne, 2008
Traudi Allen, Cross-currents in Contemporary Australian Art, Fine Art Publishing, St Leonards 2001
Powerful Posters – 20 Years of Red Planet, Red Planet and NETS Victoria, 1999
Liz McQuiston, Suffragettes to Shedevils, Phaidon Press, London 1997
Roger Butler, Poster Art in Australia, National Gallery of Australia, Canberra 1993
Sandy Kirby, Sightlines: Women's Art and Feminist Perspectives in Australia, Craftsman House, Sydney 1992
Associations
Art Gallery of Ballarat (Board of Directors – Chair)
Art Gallery of Ballarat Acquisitions Committee
National Gallery of Australia
Print Council of Australia