Tilt Renewables Scholarships
Category

Foundation

Location

Ballarat

Annual value

$3,500

Open date

20/09/2022

Close date

21/10/2022

Study sector

TAFE

Study level

Certificate; Diploma

Student type

Domestic

Student status

New / commencing

Scholarships available

3
The Tilt Renewables Scholarships are available to students who are trade-qualified in engineering, electrical or mechanical trade wishing to enter the wind energy generation industry, who demonstrate a clear enthusiasm and desire to enter or further their involvement in the industry and are enrolled in the Global Wind Organisation Standard course at a Federation University campus. Current employees working in the wind generation industry who wish to undertake the training in order to provide them with a pathway toward becoming a wind turbine technician will also be eligible for the scholarships.
How to apply
Apply directly through our Scholarships and Grants portal.
About Tilt Renewables
Our name, Tilt, was inspired by turbines tilting to catch the wind and solar panels tilting towards the sun. However more than that, we're tilting towards a better, renewables dominated future.
Our passion is to rebalance electricity generation and look beyond the now, to energy that is enduring for the benefit of future generations. We're genuine about our commitment to renewables, and that's why it's in our name.
Our logo is straightforward, just as we promise to be. It is derived from wind direction and the sun's rays. The combination of blue skies and yellow rays combine to create our positive green band colour.
The lean of Tilt is a nod to our attitude. Tilt Renewables does things differently to provide benefits to our communities, great jobs for our employees and sustainable returns for our shareholders.
Our business is serious, but we also have fun, establish strong relationships and feel good about what we do.
In our partnerships we look to take the angle that makes it work for both parties.
Clean Energy Council Awards 2020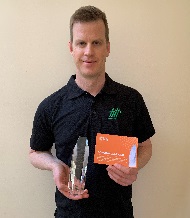 Congratulations to Tilt Renewables on receiving the Community Engagement Award in the annual Clean Energy Council Awards for 2020.
Recipients
2021 Tilt Renewables Scholarship