2018 Foundation Continuing Scholarships
The Federation University Australia Foundation had pleasure in awarding 10 Foundation Continuing scholarships, including one Meredith Doig scholarship, to the value of $4000 each.
The scholarships were presented on Thursday 3 May 2018 at Mt Helen, to the following students:
Kristin Boyce
Sharon Hall
Liam Mathieson
Kelly Nadarajan
Olga Torgovnikova
Rhiannon Coyle (Meredith Doig Scholarship)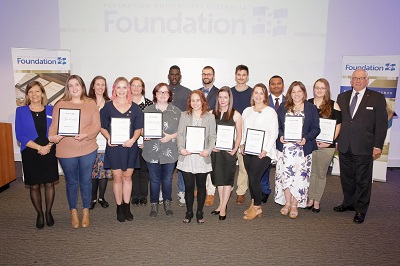 From left: Prof Helen Bartlett, Vice-Chancellor and President; Brittany Harris; Kelly Nadarajan; Olga Torgovnikova; Kym Willis; Kristin Boyce; Mark Aleu; Sharon Hall; Matthew Snooks; Rhiannon Coyle; Liam Mathieson; Eliza Liston; Venkata Rao Gondi; Emma-Jane Norman; Tiah Hobbs-Little; and Dr Paul Hemming, Chancellor.
The remaining scholarships were awarded at the Gippsland campus on Wednesday 23 May 2018 to the following students:
Caitlyn Dinsdale
Brittany Donnelly
Belinda Rawding
Amynta Robinson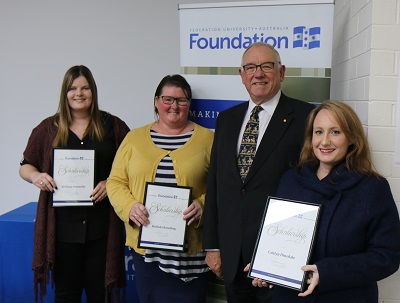 From left: Brittany Donnelly; Belinda Rawding; Dr Paul Hemming, Chancellor; and Caitlyn Dinsdale.