2018 Foundation Commencing Scholarship
The Federation University Australia Foundation had pleasure in awarding 19 Foundation Commencing scholarships valued at $3500 each in 2018.
The scholarships were presented across four events on Thursday 3 May at Mt Helen, Monday 7 May at Berwick, Wednesday 23 May at Gippsland, and Wednesday 30 May at Horsham, to the following students:
Belinda Cavanagh (Staff scholarship)
Zoe Duncan
Venkata Rao Gondi
Kayla Harbridge
Brittany Harris
Tiah Hobbs-Little (Buninyong Community Bank scholarship)
Verana Hunter-Raye
Kimihia Kere
Eliza Liston (Council scholarship)
Tylah Meunier (Elite Athlete scholarship)
Emma-Jane Norman
Ebony-Rose Nudelman (Staff scholarship)
Mahadurage Nadeeshani
Perera Gunatilleke
Lillian Rowley-Powney
Mickael Shanko
Matthew Snooks (Ian Alexander Gordon scholarship)
Brooke Tahir
Christine Walker
Kym Willis (Carol Lynette Grant [Prowse] scholarship)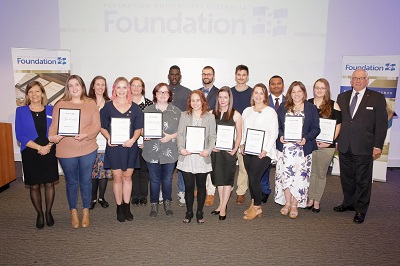 From left: Prof Helen Bartlett, Vice-Chancellor and President; Brittany Harris; Kelly Nadarajan; Olga Torgovnikova; Kym Willis; Kristin Boyce; Mark Aleu; Sharon Hall; Matthew Snooks; Rhiannon Coyle; Liam Mathieson; Eliza Liston; Venkata Rao Gondi; Emma-Jane Norman; Tiah Hobbs-Little; and Dr Paul Hemming, Chancellor.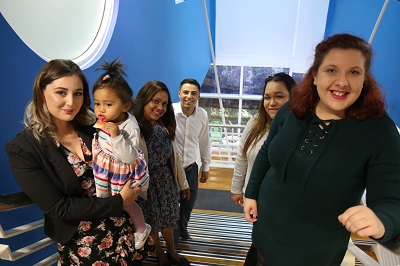 From left: Brooke Tahir; Mahadurage Nadeeshani Perera Gunatilleke; Tylah Meunier; Kimihia Kere; and Ebony-Rose Nudelman.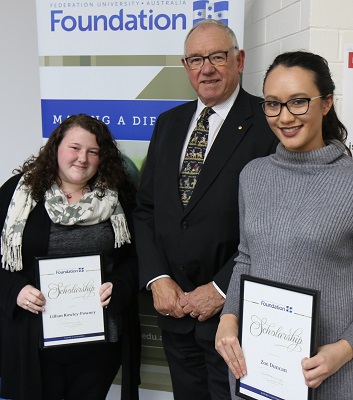 From left: Lillian Rowley-Powney; Dr Paul Hemming, Chancellor; and Zoe Duncan.