2016 Foundation Commencing Scholarship
The Federation University Australia Foundation had pleasure in awarding 11 Foundation Commencing scholarships valued up to $7000 each in 2016. The scholarships were presented at two events, on Tuesday 4 May 2016 at Mt Helen, and Wednesday 15 June 2016 at Gippsland, to the following students:
Katrina-Louisa Beer (Higher Education)
Cassandra Coad (Higher Education)
Nathan Finley (TAFE)
Bethany Harrison (Higher Education)
Deanne Hayes (Ian Alexander Gordon scholarship)
Amber Leslie (Higher Education)
Lisa McClellan (Higher Education)
Sheila Meaker (Higher Education)
Erin Mitchel (Carol Lynette Grant [Prowse] scholarship)
Jill Philpotts (Higher Education)
Kristie Russell (Higher Education)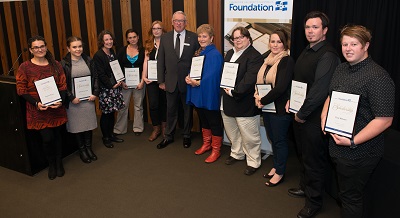 From left: Deanne Hayes; Bethany Harrison; Erin Mitchell; Katrina-Louisa Beer; Tara Schultz; Dr Paul Hemming, Chancellor; Jill Philpotts; Joshua Callander; Rebecca Bredin; Nathan Finley; and Troy McLean.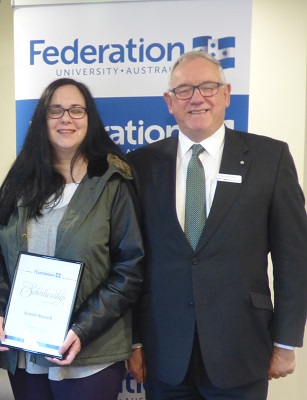 From left: Kristie Russell; and Dr Paul Hemming, Chancellor.