KUMAR, Mahesh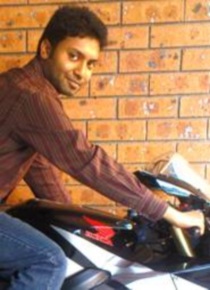 Degree
Master of Commerce (Professional Accounting)
Graduation year
2009
Current position
Authorised representative (sales)
Employer
Customers One to One
What are some of your career highlights?
I was awarded $500 in incentives for maximum percentage of joint sales in a campaign for ING Life.
I received regular compliments from Senior Management for consistent delivery of quality customer service and sales in the CommInsure campaign.
Describe the most enjoyable and challenging aspects of your job
The most exciting part of this role is also the most challenging, which is to connect to customers about life insurance (the last thing you want to discuss at any given time of a busy day).
We need to help customers think about being prepared for the unexpected in life, without providing personal advice (Compliance Laws)
Since we'd call anywhere between Perth to Sydney, you'd hear about what's happening to the weather, how life's going and sometimes advice too! In short - amusing and fun!
What are your strongest memories while you were studying at the University of Ballarat?
Studying at University of Ballarat infused learning in a way that encouraged participation. The staff and lecturers at Ballarat were always student friendly. There was flexibility in choosing your class allocation and group mates for assignments. We were provided with positive feedback on our progress with an aim to bring out the best in us.
Do you have any advice about life after study to pass on to current students?
One experience I would like to share with fellow students is that while studying you should simultaneously look for gainful employment relevant to your respective course. There are opportunities for students to work in vacation jobs and internships. Some companies advertise for part-time employment exclusive to students in their final year of study. While they will add a lot of value to your resume it will also put your learning into perspective. This will place you in a better position to kick-start your career when you graduate. Also, enjoy uni-life while you can! Make the most of it as it is one of kind, and involve yourself as much as you can and you will cherish it later!