Record number of Foundation scholarships awarded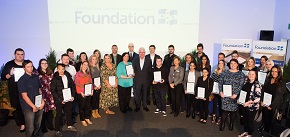 The Federation University Australia Foundation has awarded a record 100 scholarships in 2019 at five presentation events at our Mt Helen, Berwick, Gippsland and Horsham campuses in April and May.
The Foundation received 270 applications in 2019, the highest number yet, with a number of new scholarships on offer for the first time including four PhD scholarships awarded on Thursday 16 May at the Mt Helen event.
Vice-Chancellor and President, Professor Helen Bartlett said, 'We established our Foundation Scholarships six years ago – so we could give our best and brightest students every opportunity to succeed in their studies, contribute to their community and to society more broadly. We started with four scholarships in 2013 and since then, we have awarded a total of 262 scholarships, worth more than one million dollars.
I'm delighted to announce that thanks to the generosity of our donors and the success of our scholarship recipients, this year alone we are awarding a record one hundred (100) scholarships.That's one hundred lives that are being transformed, and who knows how many countless other lives will be changed by the work our scholarship recipients will go on to do.'
The Foundation scholarships program was established to enhance students' chances of succeeding at University and scholarships are open to domestic and international students from TAFE right through to PhD with applications assessed on financial circumstances and commitment to study.
Celebrating success
The Foundation proudly follows the journey of all its recipients and reports back regularly to donors on their progress. Despite any initial hurdles many of these students face, many have gone on to be among our highest achievers.
This year, five Foundation scholarship recipients were invited to join the FedUni Chapter of the Golden Key International Honour Society, the world's premier academic honour society. Only undergraduates in the top 15% of their class - and the top performing graduate students in all academic disciplines, are invited to join this Society. 29 of our Foundation Scholarship recipients have now been invited to join the Golden Key Honours Society.