Alumni shine at Vietnam recruitment events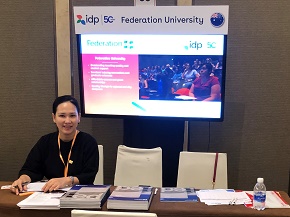 Two outstanding Federation alumni made a wonderful contribution to their alma mater by acting as representatives at major student recruitment events held in Vietnam in October.
Nguyen Thi Thanh Thuy and Do Thanh Tuan attended the IDP and Duc Anh education expos in Hanoi and Ho Chi Minh City. With training from Federation's International Student Recruitment team, Thuy and Tuan provided potential applicants with up-to-date course, campus and scholarship info, as well as offering personal insights into their own experiences of studying in Ballarat.
Tuan graduated from our Master of Business Administration in 2010. He now works as a Planning and Commercial Analyst at the Ho Chi Minh City offices of Repsol, one of the world's leading energy companies.
Thuy graduated in 2009 from our Master of Professional Accounting. After returning to Vietnam, she found a job at Deloitte, one of the world's leading accounting and consultancy firms. She now works as a consultant at the Hanoi office of Kenan Institute Asia, a non-profit organisation aimed at empowering people to develop their skills and achieve their dreams.
'Federation University shaped who I am today,' says Thuy.' Living in a new country, in a multicultural environment gave me so much more confidence and independence, as well as a new perspective on people and the world around me.
'I felt very comfortable and confident on campus because of the friendships I had, the great teachers I had and the excellent student support. I really enjoyed my time at Federation, and I'm very happy to represent the University and give advice to potential new students.'
If you are interested in representing Federation at student recruitment events in Asia, please contact Dan Cherry, International Recruitment Officer at d.cherry@federation.edu.au