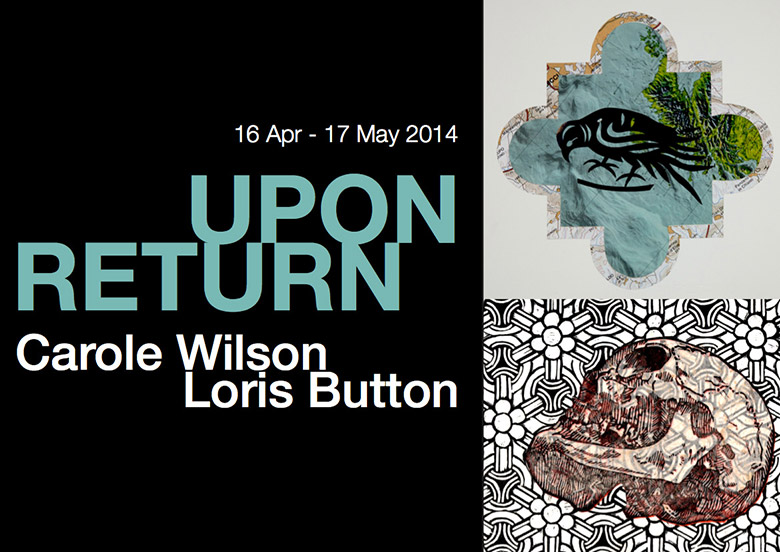 Upon Return
Wed 16 Apr - Sat 17 May 2014
Opened by Louise Saxton, Visual Artist. on Wed 16 Apr
Carole Wilson's signatory hand-cut collaged works on paper which result in highly decorative wall installations, reference both the historical and the contemporary, while investigating the various approaches to pattern and decoration evident in art, architecture and artefacts from the Etruscan through to the Roman, medieval, Renaissance and contemporary era. Strongly influenced by her artist residency in 2012 in a restored 10th century church in Tuscany, Italy, Wilson's recent body of work and exhibition Scala includes her signatory use of the 'map', while referencing various interpretations and meditations on this and other travel experiences.
Carole Wilson's exhibition Scala was exhibited at Haines Art Gallery, Wake Forest University, Winston-Salem, North Carolina and Gallery FAB, University of Missouri-St Louis, USA in 2013.
Loris Button's works on Korean, Japanese and her own handmade papers, continue her exploration of the ways in which individuals in contemporary Western culture deal with ageing and mortality. Drawn to the concept of 'vanitas' as exemplified in 17th century Dutch still life painting, her works are further influenced by reflections on the spiritual foundations of both Korean and Indian cultures, embedded in deep time. Button's acute sense of observation and highly skilled use of line and pattern, coupled with the fragility of the handmade paper, imbue a sense of serenity and material meaning on this reflection on the transience of life.
Loris Button: Drawn to Print was exhibited at Gallery FAB, University of Missouri-St Louis, USA in 2012.
Image: Top right: Carole Wilson Roman Bird 3, 2012 - 2013. Bottom right: Loris Button Small Vanitas in Nine Parts, 2012