Gillian Hehir Scholarship
How to apply
Follow the step by step process to apply for this scholarship.
Please read the Selection and administration guidelines
About the Gillian Hehir Scholarship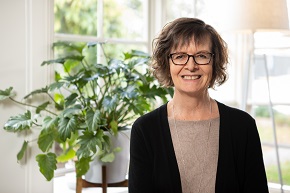 Gillian Hehir is a Clinical Psychologist in private practice in Ballarat, working exclusively with women (or those who identify as female). She undertook all of her tertiary (graduate and post-graduate) studies through the University of Ballarat.
Gillian began her university studies as a sole parent and juggled work, study and being a mother. Access to a scholarship and a bursary, at the time, allowed her to focus on her coursework and placements, and now, given her experiences of subsequent financial independence as a result of many years of study, Gillian would like to be able to assist another woman at the university.
Gillian really appreciates the value of education, particularly for women, but also just how difficult the juggle can be, and is well aware many women in our local community combine studies with work, both paid and voluntary, and family commitments.
Gillian is now able to give back in a way that may well assist another woman to continue on with her studies. Potentially a woman who may have contemplated giving up on her dream of working as a psychologist one day. The financial assistance was a lifeline for Gillian at the time.