2017 Foundation Scholarships
The Federation University Australia Foundation had pleasure in awarding 51 scholarships in 2017, across four events.
A variety of scholarships were awarded at each ceremony, including Foundation Commencing, Foundation Continuing, Foundation TAFE and Foundation Community Scholarships. Details of donor named scholarships can be found at Scholarships.
Mt Helen, Monday 1 May 2017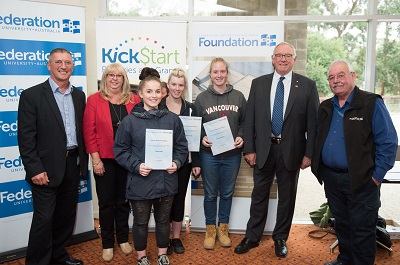 Mt Helen, Thursday 4 May 2017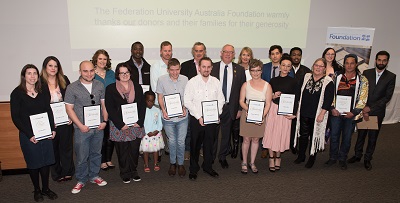 From left: Lori Howlett; Michelle Steicke; Justin Stankovic; Karah Broad; Jodie McLellan; Apollinaire Irumva; Nathan Dower; Isaac Duffy; Samuel Crane; Scott Anderson; Dr Paul Hemming, Chancellor; Jacinta Burke; Dakota Richards; Ali-dad Afzali; Ashten May; Mickael Shanko; Rebecca McIntosh; Sandra Cross; Mitchell Corrigan; and Abhinav Hira.
Gippsland, Wednesday 24 May 2017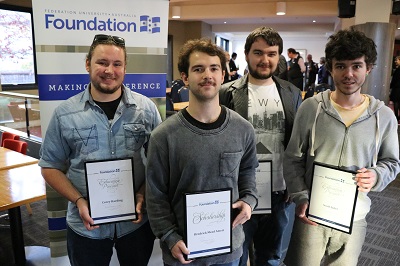 From left: Corey Harding; Brodrick Mead Ameri; Terry Scheerle; and Scott Alder.
Horsham, Wednesday 13 December 2017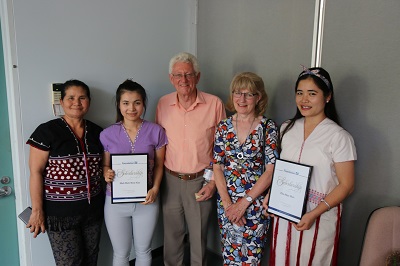 From left: Ma Pane; Muh Muh Maw Kay; John Millington; Margaret Millington; and Tha Blay Sher.