2013 Foundation scholarships
The Federation University Australia Foundation presented its first Foundation Scholarships to four students at the Mt Helen Campus on Wednesday 8 May 2013.
The scholarships, open to domestic Higher Education and TAFE students, are funded by donations to the Federation University Australia Foundation.
Valued at $7,000 each, the scholarships are assessed on financial circumstances and commitment to study.
The 2013 recipients were:-
Kylie Rippon (Higher Education)
Victoria McDonnell (Higher Education)
Julie Williams (Higher Education)
Daikota Gerrett-Christie (TAFE)
The Vice-Chancellor, Professor David Battersby said "The Foundation is delighted to award these scholarships to these four deserving students. We look forward to these scholarships assisting many other students in the years to come."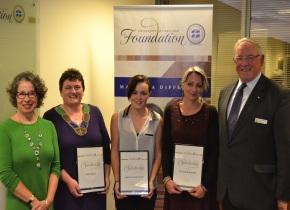 From left: Barbara Webb (Chair, Scholarship Selection Panel),
Kylie Rippon, Daikota Gerrett-Christie, Victoria McDonnell,
Dr Paul J H Hemming (Chancellor)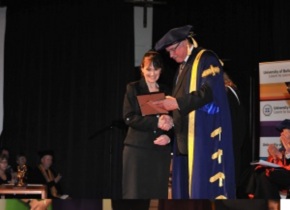 Julie Williams was presented with her certificate at the
Horsham Graduation Ceremony on Thursday 30 May 2013.