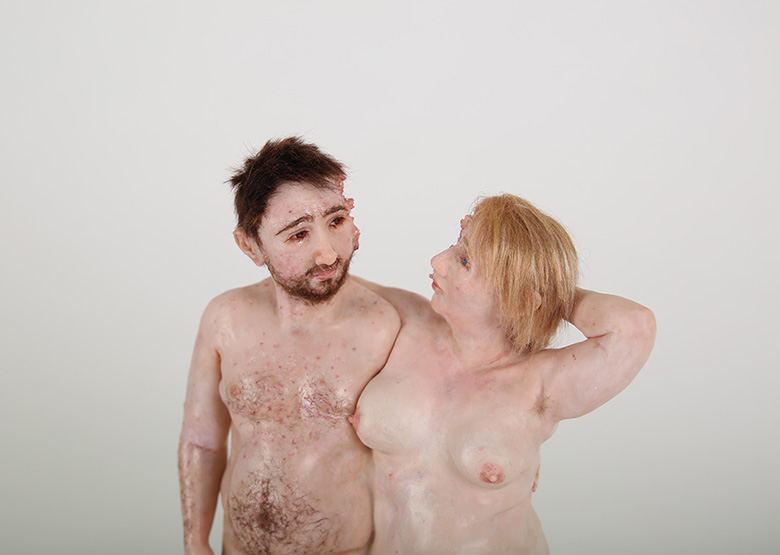 SYLVIA HOLLIS: THE ASSUMED DIVIDE
Wed 8 Nov - Sat 18 Nov 2017
The exhibition was opened on Thu 9 Nov 2017 by Dr Jill Orr, Lecturer, Visual Arts, Arts Academy, Faculty of Education and Arts, Federation University Australia.
The Assumed Divide is an exhibition of small, figurative sculpture works, created in response to an exploration of gender, feminism and relationships. Sylvia Hollis works with the nude human figure for its ability to expose the commonality of physical existence. Wary of the temptation to objectify the body, her representations keenly express a connection to the psychological states of the characters. In this series, depictions of torn, hollowed or disintegrated flesh suggest the sometimes painful or destructive process of negotiating intimacy between self and other. Drawn from personal experience, further informed by studies in gender and feminism, Hollis' body of work examines the division created by assuming a categorical difference between men and women.
Sylvia's works have been described as confronting and graphic, as well as receiving praise for their realism and sensitivity. They offer insight into the interactions and perspective of a millennial woman who battles internalised sexism and a history of unequal relationships. Resoundingly, this exhibition affirms the right to claim and maintain autonomy, highlighting how this may be undermined by attempts to satisfy stereotypical requirements of a relationship. Reverting to ingrained binary stereotypes reduces our potential to understand the myriad spectrums of identity, allowing the decidedly unfair battle of the sexes to continue.
Sylvia Hollis's exhibition and recent work constitute the visual outcomes emerging from a practice-led research project for a Masters of Art Award at the Arts Academy, Faculty of Education and Arts, Federation University Australia.
SYLVIA HOLLIS ARTIST TALK - MON 13 NOV 2017 @ 12PM
Image: Sylvia Hollis, Disconnect, 2017 (detail), mixed media, 31 x 38 x 22cm