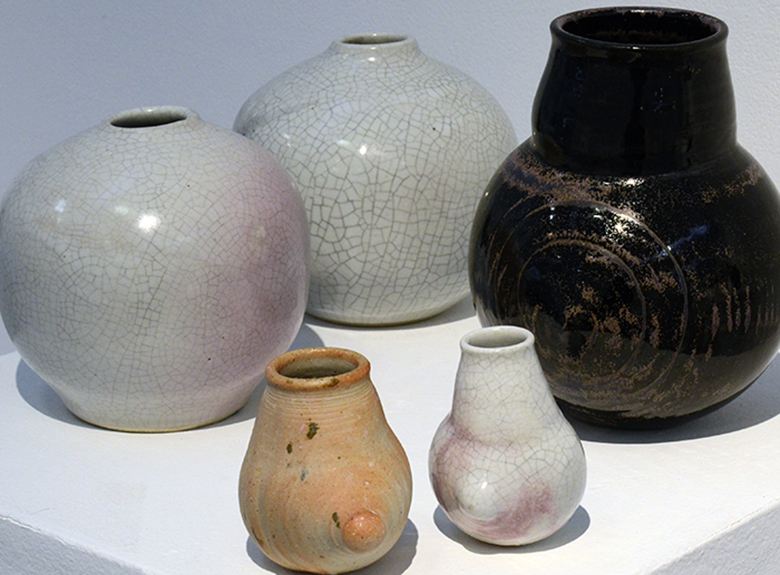 UNEARTHED: THE JAN FEDER COLLECTION
Sat 30 Sep – Sat 4 Nov 2017
The exhibition was opened by special guest speaker Hedley Potts, Ceramic Artist, on Sat 30 Sep 2017.
The Jan Feder Memorial Collection was established by Gippsland Institute of Art Education (GIAE) students in 1981 to recognise Jan Feder who had been an outstanding student in Ceramics. Respected by all her peers Feder was recognised for her diligence, technical ability and kind and generous spirit. In building a ceramics collection, the students considered that it would be of considerable benefit to the Ceramics Department as a teaching tool and particularly beneficial for future students at the campus.
After establishing a Committee and a Collection Policy, the students actively raised funds by sales of their own 'seconds' work which they called 'Junque Sales' - a regular feature of the Art School in the following years. By 1982 they had raised approximately $760.00 and selected their first two works by Victor Greenaway and Victoria Howlett.
The Collection then grew through works gifted by significant nationally and internationally recognised visiting ceramic artists and through GIAE's strong Artist in Residence program. Works were also donated by artists attending key events at the campus such as the 'Strzelecki Spotkanie 1984' symposium and the 'Woodfire '86' conference, strengthening the Collection in specific ceramic styles, approaches and techniques.
The Collection also continued to grow through the assistance of the Craft Board of the Australia Council through the provision of a subsidies program that reimbursed a percentage amount for each purchase made, until 1987.
On tour from Federation University Australia's Gippsland Centre for Art and Design (GCAD), Gippsland Campus, the Post Office Gallery is very proud to present select artists' work in Ballarat, including; Jan Feder, Paul Greenaway, Victor Greenaway, Christopher Headley, Jillian Hurrell, Victoria Howlett, Sandra Johnstone, Kingsley Marks, Janet Mansfield, Valerie Marshall, Tony Nankervis, Vernon Patrick, Dianne Peach, Alan Peascod, Christine Perks, Peter Pilven, Hedley Potts, Reg Preston, Sylvia Richardson, John Rojo, Owen Rye, Shikuho Ino, Allan Watt, Kurt Webb and Robin Welch.
The Jan Feder Ceramics Collection now includes the work of over 80 ceramic artists, some of whom are highly respected leading ceramicists across the globe. The strength of the Collection illustrates the importance of collecting by teaching and art institutions for the benefit of communities, future generations and Australia's combined national Permanent Art Collection.
Image: Jan Feder, 5 vessels (installation view) reduction fired stoneware with feldspathic crackle and Tenmoku glazes Collection: Federation University Australia