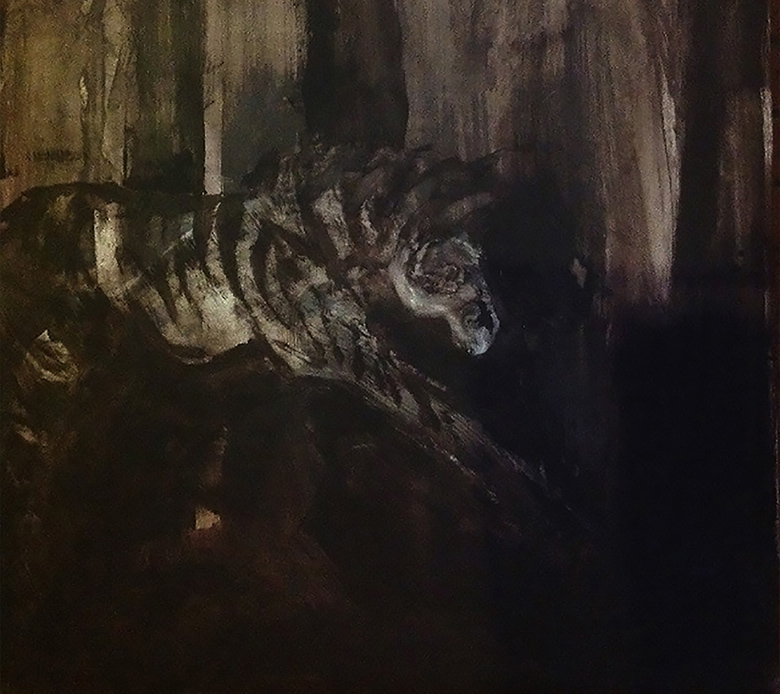 ANNETTE CHAPPELL: INDWELLING
A Story in Fresco
Wed 24 May - Sat 3 Jun 2017
The exhibition was opened by Dr Mary Hollick, Senior Lecturer, Faculty of Business, FedUni on Thu 25 May 2017.
Annette Chappell's work is a contemporary exploration and transgression of the material form and function of traditional fresco. Drawing upon on-site experience as a materials conservator of historic fresco she repurposes that knowledge to create contemporary part and full fresco surfaces and to locate her self-story as an artist.
Through a process of indwelling in recurrent and resonant imagery, her storylines are enacted through immersive and spontaneous material and pictorial techniques, and captured in the stone layer veil or 'velo' of the fresco lime plaster. The choice of dark and light tonal values in her backgrounds are an evocation of mysterious spaces – the inner and outer worlds of human experience where self-story takes place.
Annette's storylines chronicle the shift from her figurative enactments of story to a focus on form-denying settings where those narratives dissolve into the sensation and emotion of contemplative silence.
This exhibition constitutes the visual outcomes emerging from a practice-led research project for a Doctoral Award at the Arts Academy, Faculty of Education and Arts, Federation University Australia.
Image: Annette Chappell, Indwelling: The Zebra Pursues, 2015 (detail), lime plaster, pigment and wax on board, 90 x 60cm. Courtesy the artist