Zach's quest to integrate study into his sport
16 December 2021
---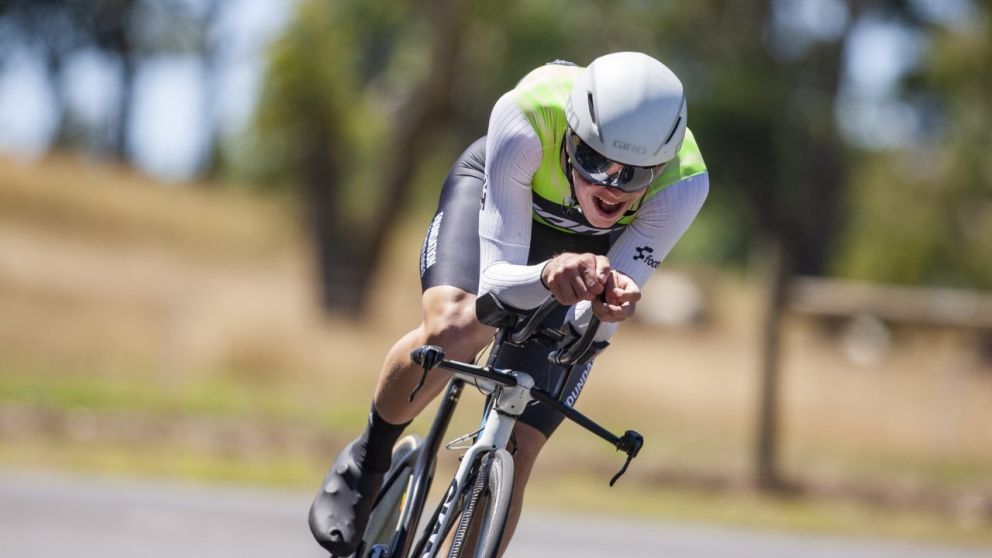 By Oscar Owens
When Giant Racing Team cyclist Zach Owen was considering his university study options for 2021, there was one thing he was certain about. He didn't want to move to a metropolitan city and was keen to live and study in a place that had some similarities to his hometown of Albury.
"I'm a country boy at heart and I couldn't bring myself to move to Melbourne, but I wanted a change of scenery from home. Ballarat and Federation University was the obvious choice for me, close to Melbourne for the racing but still with a more country vibe."
The other thing that Owen would come to also appreciate about Federation University was that he was living on the Road National Championships course – a course he trained on almost every day during the COVID restrictions imposed intermittently during 2021.
"Throughout the early part of the year I was spending a lot of time on the indoor trainer and doing lots of loops of my small radius near the Road Nationals course which became, I'll admit, very mentally draining. I think I know every grain of the road on the Road Nats course, which is hopefully an advantage for me."
A member of Federation University's Elite Athlete Program and recipient of the Federation University/Giant Racing young rider scholarship award, Owen successfully completed his first year of his Bachelor of Exercise and Sport Science in 2021. The course content saw Owen studying many of the concepts and theories behind improving athletic performance – some of which he has since implemented into his racing.
"The opportunity to talk to experts in the field and do some testing with my lecturers and get their opinions on different topics is something I find is helping my understanding of training and why I do what I do to get the desired results. It helps me understand why I'm doing certain sessions at certain times and what the goals of each are, allowing my training to be more effective."
"I've always enjoyed science throughout school, and combined with the enjoyment I get from sport, it was the natural choice to choose sport and exercise science. Once I finish my undergraduate degree, I have some plans to continue and do further research to help improve athletes to get faster and stronger."
Owen's initial attraction to the sport of cycling came through watching his dad race a 3-hour endurance race at the local mountain bike park.
"Instantly I wanted to do the same. I eventually transitioned over to road, but Dad was the driving force behind me getting into cycling. Even these days he is my number one supporter, whether that be financially, emotionally or occasionally giving me a friendly prod to ask me when I was going to go out and get the training session done."
After transitioning to road racing, Owen eventually grew some self-belief in the sport via coach Gerard Donnelly who, after seeing some of his results, suggested he could take his cycling career somewhere. This culminated with Owen winning the 2020 Victorian under-19 criterium championships and the Fred Icke Road race in elite B – performances that put him on the cycling racing radar at a time when he was also trying to do the best he could in Year 12.
"Throughout 2020, I put in the greatest number of hours I ever have, adding an extra 200 hours of training than in 2019. I was hitting the best numbers I ever had, pretty much working, riding and trying to do half-decently in year 12. This was the year I finally landed my first National Road Series contract with Giant Racing as the Federation University scholarship rider."
Fast forward to the 2022 Australian Road Nats, and after another challenging year for athletes in all sports, Owen is readying himself for some more assaults and hoping all the hours spent in winter during lockdown training on the course will pay off.
"My main goal is in the under-23 time trial. With the work we have been doing, I am targeting a top 5 in the time trial with the lofty goal of a medal. Other than that, I'll be playing a support role in the criterium for our team sprinter. During the road race, I will more than likely be riding around trying to protect some of our more lightweight climbers, so they are fresh for the final few laps."
Whatever the race outcomes, it is probable that Owen will reflect on his performances and relate his race day experience to the content he has looked at in his studies. It should make for interesting conversations with his classmates when students return for classes at Federation University in 2022.
The 2022 Federation University Road National Championships will be held in Ballarat and Buninyong from January 12-16.
Oscar Owens is a lecturer in Exercise and Sport Science at Federation University.
The 2022 AusCycling/Federation University Cycling Performance Seminar Series will be held between January 10 and 13. Sessions will cover topics relevant to cycling performance at all levels, and participants will be given the opportunity to ask questions at the end of each presentation. For more information and to register for the sessions, visit this link.
Related reading:
Adaptability the key to Nicole's success
Road racing tactics – it's not always the fittest who win
Tylah's ride down the road less travelled