Adaptability the key to Nicole's success
4 February 2021
---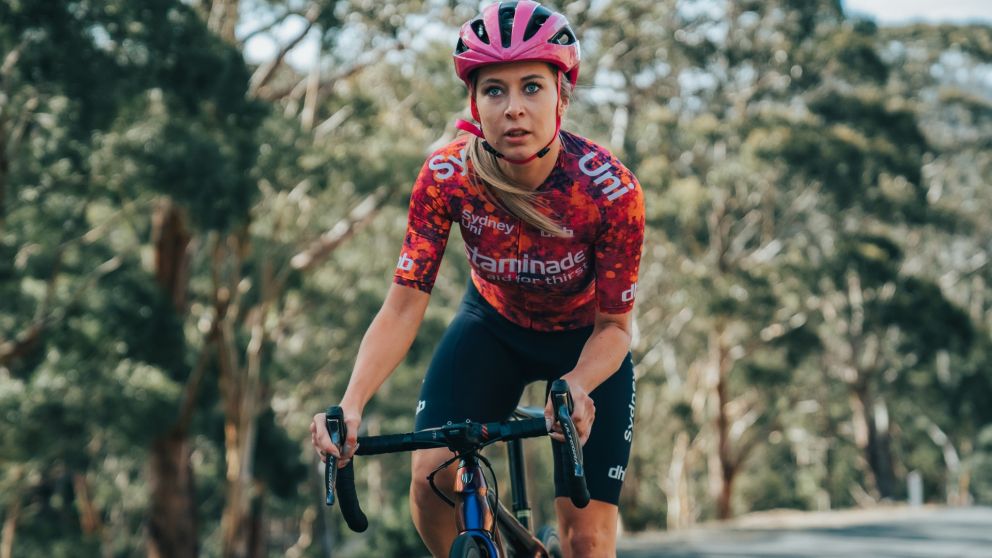 By Oscar Owens
Adaptability became a buzz word for a whole range of reasons in 2020 but for Federation University student Nicole Frain and her quest to enhance her reputation as a racer on the female pro cycling circuit, it is a word with a deeper meaning.
Relatively new to pro racing, 2020 began as she hoped, with a top 10 finish in the Federation University RoadNats Time Trial, racing a World Tour Level stage race at the Tour Down Under and getting on the start line to represent the Korda Mentha team at the UCI World Tour Cadel Road Race in Geelong.
The first test of Nicole's adaptability was to come a couple of hours after starting the Cadel Road Race in early February. Wet conditions and a 75kph descent combined to see 20 plus riders come off their bikes in a nasty crash. For Nicole, this resulted in 50 stitches, collarbone surgery, skin grafts to her elbow, a hip wound and reconstruction surgery to repair one of her fingers.
Speaking on the Federation University Sport Swoop podcast Nicole recalled the incident and her strategies for getting confidence back on the bike.
"It was definitely the worst crash I've been involved in and I don't think I've ever been in that much pain before. Straight away after the crash I did a self-assessment and was thinking of the recovery that would be involved," she said.
"Getting confidence back on the bike eventually came through riding with someone I trust and gradually reintroducing things like cornering, following someone closely on descents and doing things like bumping elbows with my boyfriend while he tried to push me into the road gutter while riding next to me."
Six weeks after the crash, she was back in her home state of Tasmania winning a time trial up Mt Wellington in Hobart.
The second test of adaptability was one not specific to Nicole, but athletes worldwide. The impact of COVID-19 on sports of all sorts has been profound and for Nicole, it killed any plans she had of racing both nationally and overseas in 2020.
"COVID's impact forced me to set some new goals, as like most athletes, I am very much goal orientated. Refocusing to use the time to do something positive towards sport, study or whatever else was important for me."Nicole Frain
She turned her attention to improving herself. She added stretching, yoga and other forms of relaxation to her daily routine. On the bike, she decided to work on her technical skills, recruiting a skills coach to work on her stability. Off the bike she put her head down at university, taking further steps to complete her Bachelor of Food and Nutritional Science at Federation.
She also learnt to love indoor racing on her bike in her living room, winning the AusCycling National racing series held via the Zwift platform during the Australian winter.
"Towards the end of the series, I felt stronger, but it was a different form of strength to road racing strength. It was a different experience and fun, but I was ready to get back racing on the road."
Once Tasmania's restrictions on movement were lifted, Nicole got back to local club racing, worked on promoting the Girl Gang Rides around Hobart which are designed to see more women racing bikes. She was also able to ride some serious kilometres on some of the most picturesque roads imaginable in the Tasmanian countryside, something she appreciated.
"I was probably a bit spoilt as Tassie's restrictions were relaxed earlier than most places and I was able to get back racing. That really helped with my motivation levels to train and allowed me to race others at club and state level," she said.
The hard work and willingness to adapt culminated with her winning the Tasmania Elite women's state road title, a win that provided a springboard for her return to pro racing on the Australian mainland in late 2020 via the NRS series on the Gold Coast where she represented the Sydney Uni-Staminade team. After finishing third overall in the NRS series, Nicole then managed to clinch fourth overall at the Santos 2021 Festival of Cycling, including a podium position in stage one.
Coming into this week's Federation University AusCycling Road Nationals, she is "super excited" and hopeful of parlaying a year of adaptability into performances that will be a true reflection of the hard work she put in throughout 2020.
"I can't wait, it's so good to be racing again and I feel very fortunate. I love it."
*Nicole Frain finished third in the Elite Women's Time Trial at the 2021 Federation University AusCycling National Championships.
Oscar Owens is an Exercise and Sports Science Lecturer in the School of Science, Psychology and Sport. The 2021 Federation University AusCycling National Championships run in Ballarat and Buninyong from February 3-7.