South Gippsland Shire Council Scholarship
Category

Foundation

Location

Gippsland

Annual value

$3,500

Open date

19/09/2022

Close date

03/03/2023

Study sector

Higher education

Study level

Bachelor

Student type

Domestic

Student status

New / commencing

Additional eligibility criteria

A female student undertaking Civil Engineering
A student undertaking Civil Engineering
Must live within the South Gippsland Shire Council

Scholarships available

2
How to apply
Apply directly through our Scholarships and Grants portal.
About South Gippsland Shire Council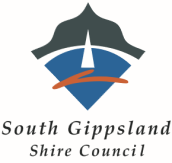 South Gippsland is located on the edge of Melbourne's eastern growth corridor, one of the fastest growing areas in the State. Our Shire has an expanding population of over 29,000 people. The average annual growth since last Census was 6.3 %. We have an area of 3,300 square kilometres with substantial coastal frontage. It is a spectacular place to live, work and visit, with communities located among the rolling green hills, and along the coast, linking the mountains to the sea.
South Gippsland Shire Council is committed to values based leadership and a culture of accountability, customer focus and excellence. Our community is at the heart of all that we do.