2019 Foundation Commencing Scholarship
The Federation University Australia Foundation had pleasure in awarding 21 Foundation Commencing scholarships valued at $7000 each in 2019.
The scholarships were presented across five events on Monday 29 April and Thursday 16 May at Mt Helen, Wednesday 22 May at Berwick, Tuesday 28 May at Gippsland, and Friday 31 May at Horsham, to the following students:
Anastasia Amadi
Mustefa Berisso (Staff scholarship)
Melanie Carter
Christine Diamond (Buninyong Community Bank scholarship)
Emily Donovan
Nicole Frain (Elite Athlete scholarship)
Sharmila Khanal (SG and JG scholarship)
Cheree Lind
Suet Yeng Ong (Staff scholarship)
Ruth Peters
Trudi Richardson (Carol Lynette Grant [Prowse] scholarship)
William Sawtell (Ian Alexander Gordon scholarship)
Kavita Sharma (SG and JG scholarship)
Pragati Sharma (Kiran Mazumdar-Shaw scholarship)
Adela Srebric
Jasmine Stankovic (Council scholarship)
Madeline Stewart
Kayla Thorneycroft (SG and JG scholarship)
Roman Ulanowicz (Isobella Foundation scholarship)
Dewi Walker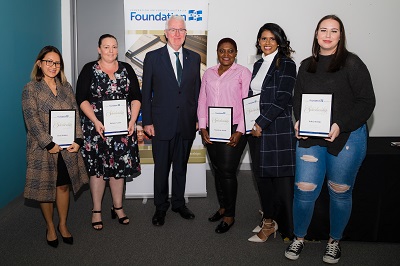 From left: Dewi Walker; Melanie Carter; Terry Moran, Chancellor; Anastasia Amadi; Ruth Peters; and Adela Srebric.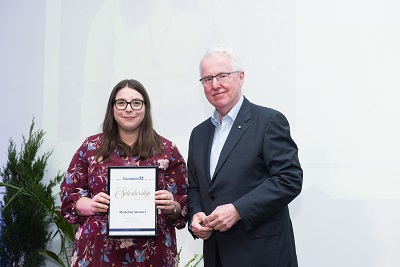 From left: Madeline Stewart, 2019 Foundation Commencing scholarship recipient; and Mr Terry Moran AC, Chancellor.