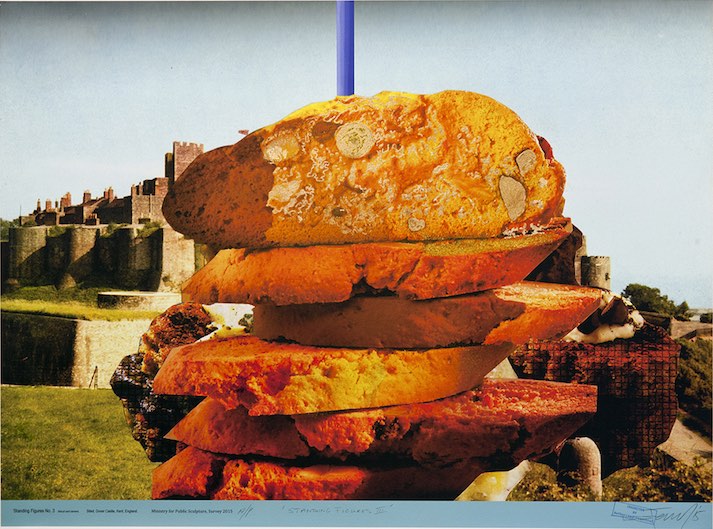 DAVID FERRY: THE INVADER'S GUIDE TO THE BRITISH ISLES
Wed 26 Oct – Sun 20 Nov 2016
Opened by guest speaker, Euan Heng, Artist, on Sat 29 Oct 2016.
Lying on the coffee table are picture books that tell us all we need to know about Britain: its history and geography combined. This printed matter supplies the artist David Ferry with both his subject and his raw material. Guides of the nation's heritage imagine an innocent landscape where the manners and attitudes of the genteel middle classes of England prevail. Into these Ferry has inserted cut out images from neighbouring picture books that demonstrate the practices of the active hobbyist. Woollen garments adorn figures from British history; tropical fish swim through the great halls of stately mansions; rock climbers ascend national monuments; and confectioners bake their own public art works. The consequence of these additions is humorous undermining of an accepted narrative.
Providing a survey of David Ferry's continued visual exploration of guides to British Heritage, this exhibition features work from series that span twenty-five years. The picture books, found in charity shops, are first subjected to simple cut and paste tampering; this is then refined through printmaking processes both traditional and digital. Resultant artist books and prints demonstrate a consistency of address that pokes fun at the polite and confident assertions of the conservative viewpoint.
David Ferry RE, is Emeritus Professor of Printmaking at Cardiff Metropolitan University in Wales. He is a Fellow of the Royal Society of Painter-Printmakers, RE, and printmaking consultant for the Sidney Nolan Trust in the UK. He has exhibited extensively in the UK and internationally, with recent solo exhibitions in Berlin, China, London, New York, Poznan and Seoul. His work can be found in public and corporate collections including Museum of Modern Art, New York; Ashmolean, Oxford; Art Institute of Chicago; National Gallery of Australia, Canberra; National Museum of Wales, Cardiff and The Victoria and Albert Museum, London. He is also included in many international university collections, and the libraries of Cambridge, Oxford, Dublin, Edinburgh, and the British Library London. David Ferry is a Pollock/Krasner Grantee from New York.
David Ferry is represented by Booklyn, Brooklyn, NY, USA.
Stephen Clarke, August 2016
NB: The Post Office Gallery is open 10am to 5pm daily during the Archibald Prize 2016 ( until Sun 27 Nov 2016).
Sat 19 Nov 2016: Professor David Ferry Artist Talk
Post Office Gallery, Ballarat @ 2.00pm
To mark the closing of The Invader's Guide to the British Isles, David Ferry will give an insight into his artist's books and printmaking practice in an informative and entertaining talk covering his many satirical and humorous influences.
Thu 29 Sep 2016: Professor David Ferry lecture
Fitzroy Town Hall, Melbourne @ 6.00pm
David Ferry RE will be Artist in Residence at the Arts Academy, Federation University Australia, in October 2016. As part of The Print Council of Australia's 50th Anniversary celebrations, Ferry will present a lecture entitled 'A Graph-O-Scape' of the British Isles' based on his satirical and humorous influences.
Mon 10 Oct 2016: Professor David Ferry talk
Arts Academy lecture theatre
Old Law Courts building, ground floor
David will be speaking about his many diverse cultural influences, mentor figures and life as an art student in London during the Punk Rock phenomenon.
BOOKLYN, BROOKLYN, NEW YORK
Booklyn is the premier gallery and protagonists in the USA for the promotion and impact of the genre of the artists Book and very well known on the Australian museum and state library circuit As a gallery and promoters of the genre, Booklyn has been a powerful presence in events such as Photo-Melbourne and Photo-Sydney. A considerable amount of contemporary American/international 'book arts' placed in national institutions in Australia have been sourced originally through Booklyn, and through the presence of one of the senior directors, Marshall Weber, a regular visitor to Australia, particularly Melbourne. Weber was recently artist in residence at the Victorian College of Arts, Melbourne and Creative Consultant for the Australian National Veterans Art Museum. Marshall Weber's works are represented in private and public Australian Collections, including the Australian War Memorial and the State Libraries of Victoria, Queensland and New South Wales.
booklyn.org
Image: Standing Form No 3, 2015 Public Sculpture in England series 2015/16 digital archive print with stencil & varnish with gold leaf 594 x 841mm Courtesy the artist and Booklyn, Brooklyn, NY.