There's more to the wild weather than just La Niña
16 November 2022
---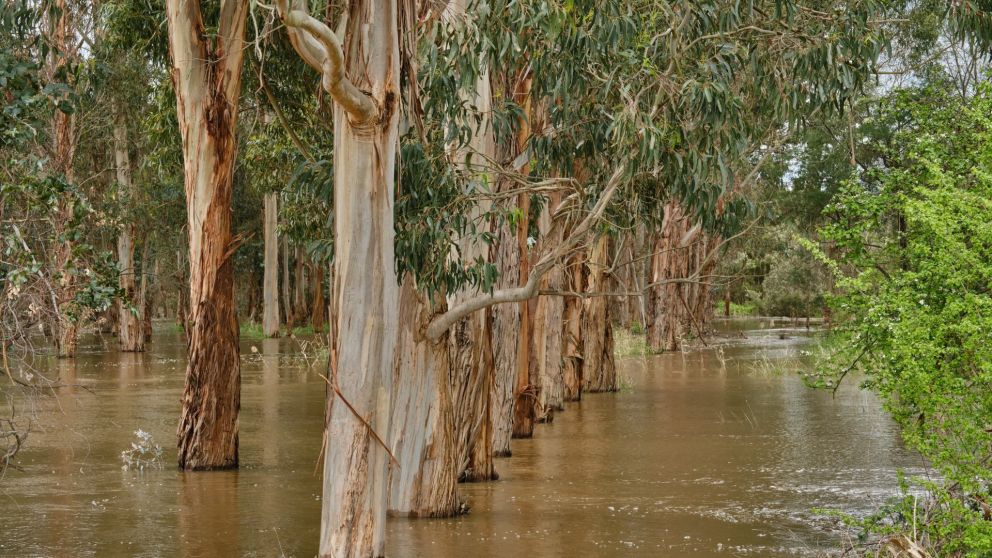 Record rainfalls that have led to catastrophic floods on Australia's east coast have widely been attributed to La Niña – a weather pattern that forms in the Pacific Ocean and leads to more rainfall and cooler temperature across most of the country.
But La Niña is one of various drivers that are contributing to the persistent rain and the short bursts of extreme falls that have resulted in flash flooding.
"Whenever we have La Niña conditions – irrespective of climate change – we tend to have more rainfall during spring and summer on our side of the continent," says Federation University climate scientist Dr Savin Chand.
"But this year, in addition to La Niña, we have other natural drivers that are controlling rainfall."
These include the Indian Ocean Dipole (IOD), which is currently in a negative phase. This occurs when water in the Indian Ocean is slightly cooler than the water closer to Australia's west coast – in the east Indian Ocean. The warmer water creates convections which eventually collide with cooler air over land, resulting in rain.
Another driver is the Southern Annular Mode (SAM). This is the north-south movement (depending on the phase) of strong westerly winds. A positive SAM increases the chance of above-average rainfall for southern parts of Australia during summer as the westerlies move further away from the southern Australian coast.
"This spring, we are seeing the influence of La Niña, the negative IOD and the positive SAM. The combination of these three has contributed to the rainfall we have seen recently. But in addition to these, there is still a multitude of other factors," Dr Chand said.
"What we are seeing now is the role of climate change. If ocean water is warmer relative to the surroundings, it drives the convections towards land as a sea breeze, and as that warmer air moves over the Great Dividing Range, or mountainous areas where the air is cooler, the convections are cooled and have nowhere to go, and that's when it starts to dump a lot of rain."
Dr Chand says spring generally sees East Coast Lows with storms starting up and moving around Gippsland, and these often cause heavy rain and damaging winds.
"We already have La Niña, positive SAM and negative IOD, so you can imagine what happens when storms come. They're entering a region that is already conducive to a lot of rain and the rain that comes is often concentrated in areas where the environment is already moist – this is behind those sudden bursts of rain," Dr Chand said.
"We can't attribute single heavy rainfall events to climate change, but a number of studies have shown us that short-duration extreme rainfall events will increase with a warming climate."
In the short term, the Bureau of Meteorology expects La Niña to ease in the New Year, and the Indian Ocean Dipole is weakening – but rain will persist with La Niña and continue to pose flooding risks to areas already saturated by above-average rainfall.
"If La Niña goes into neutral in January or February, this also slightly lowers the chances of tropical cyclones occurring in the tropics. Tropical cyclones in the Southern Hemisphere are active from November to April, more so December to February – and fully fledged La Niña increases the chances of more tropical cyclones," Dr Chand said.
"Just like the East Coast Lows, tropical cyclones that make landfall can cause plenty of damage because of the amount of moisture concentrated there. These events just move moisture from one place to another – these are very strong cyclonic systems that can dump huge amounts of rain."
Dr Chand says the intensity of recent storms should lead to more discussions about planning and infrastructure, with the expectation that extreme events will become more frequent because of climate change.
"We are now living in a world that is warmer than it has been before. The atmosphere has warmed by at least one degree over the past century, and the moisture content in the atmosphere has increased, so the expectation is that we will see more extreme rainfall events in the future."
Related reading:
Research shows tropical cyclones have decreased alongside human-caused global warming – but don't celebrate yet
Floods, fires, drought – climate extremes to intensify without action: IPCC
How a warming climate is increasing bushfire risks