Developing reliable energy systems for remote communities
21 June 2022
---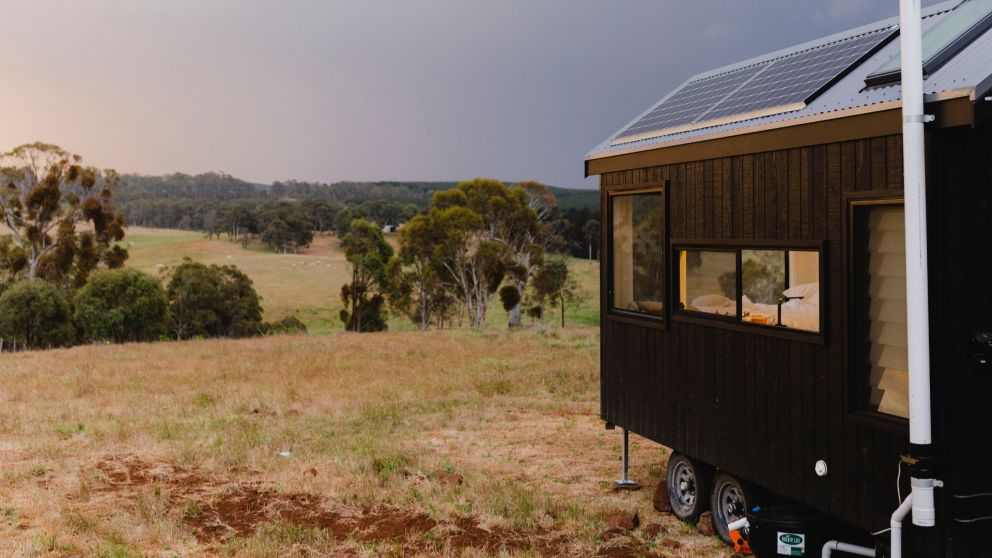 The incidence and severity of extreme weather events have risen in Australia in recent decades, with modelling from climate researchers warning that these events will continue to increase.
Deadly bushfires and floods have had devastating consequences in many parts of the country and have put communities at risk when electricity is cut and residents are left without power and telecommunications for days or weeks.
The bushfires in 2019-20 have been described as unprecedented in size and impact, and Australia's costliest natural disaster. The electricity grid was disrupted for many regional communities during the fires.
Federation University researchers are working on the development of microgrid power systems that could provide energy to remote towns where power has been cut because of these disasters or severe weather events – or other circumstances.
Dr Rakibuzzaman Shah from the Centre for New Energy Transition Research (CfNETR) said long transmission lines in remote communities are prone to faults due to defective equipment, human error, vehicle accidents, falling trees, wind, and storms. These faults result in extended power outages.
He said the development of microgrid systems is becoming more critical with the growing number of devastating incidents in communities.
In 2017, about 157 widespread power outages occurred in Australia for a total duration of 6,218 minutes, affecting 1.2 million people and causing enormous financial losses for businesses, according to the Australian Energy Market Operator (AEMO). Australian organisations experience three days of unanticipated interruption per year on average, with a total loss of $70 billion.
"Technology to cut powerline fire-risk must be accompanied by technology to quickly find faults if overall safety risk to customers is to be contained," Dr Shah said.
"On several occasions in recent fire seasons, Victoria's rural distribution businesses faced difficult decisions to bypass new fire-safety technology and risk causing a fire. Therefore, new opportunities in terms of coordinated operation of distributed energy resources (DER) and implementation of community-based microgrids should be considered to enhance the resilience of towns and regions prone to bushfires and other natural disasters."
And it's not just severe weather that is cause for concern. Power generation is in the spotlight, with the AEMO recently suspending trading of power generation amid fears that reliable electricity supply is in jeopardy.
A microgrid is typically a self-contained power generation system connected to a national grid but can work independently when power is disrupted.
The research is part of the Australian Government's Preparing Australian Regional Communities for Resiliency Program, which aims to improve the long-term resilience of communities and households to natural hazards and deliver disaster risk reduction projects that reduce hazard exposure or vulnerability. Risk reduction was a focus of the Royal Commission on National Natural Disaster Arrangements.
"There is a need for communities, researchers, and industries to come together and find out what the risks are and how we can minimise the risks to communities to reduce the impact of natural disasters like floods and bushfires." Dr Rakibuzzaman Shah
"What happens when we have events like these is people in some isolated communities can be without power or telecommunications for days or weeks. For people who have water pumped to their home from their tanks, that means no water too."
Dr Shah said a system in development could connect households, key locations and critical infrastructures with self-sustaining energy generation systems. These would consist of distributed energy resources – like solar PV, biomass generation, wind and fuel cell – and energy storage systems.
He said there is a need for data-driven and artificial intelligence-based energy management for a resilient energy system.
"With this type of system, we would limit the locations where we would put it – it can't be everywhere in rural and regional towns, but it would be at specific emergency locations, not on every home," Dr Shah said.
Dr Shah said a vital aspect of state and federal government programs was engaging with communities to identify key elements of resilience from the perspectives of residents, businesses, and critical organisations like the State Emergency Service (SES) and distribution network service providers (DNSPs).
"This has guided the actions to improve the community and network resilience, including a strong focus on reliable energy integration and energy management," Dr Shah said.
"In developing projects like these, we also need to supply a community with the energy literacy, in respect to the resiliency of the energy supplies, including their different options and the associated costs for these systems."